Jordan is gaining popularity in the tourism sector. I think Jordan is an amazing country with kind people, good food and amazing sites. This blog will contain all my best tips for an unforgettable journey in this Middle Eastern country.
This ancient city is an UNESCO heritage site and one of the seven wonders of the world. Petra is a must visit during your trip to Jordan and was one of my personal highlights. Petra is not just that one image that probably everyone knows. Even though it is one of the highlights of Petra, the Treasury is not all there is to see. Starting with the entrance of the park, you will walk towards the Siq. Here you can already see the red rocks and some creations that were made from the rocks. Once you arrive at the Siq, the real adventure starts. The Siq is a small canyon which works as a pathway to the first real site to see in Petra: the Treasury.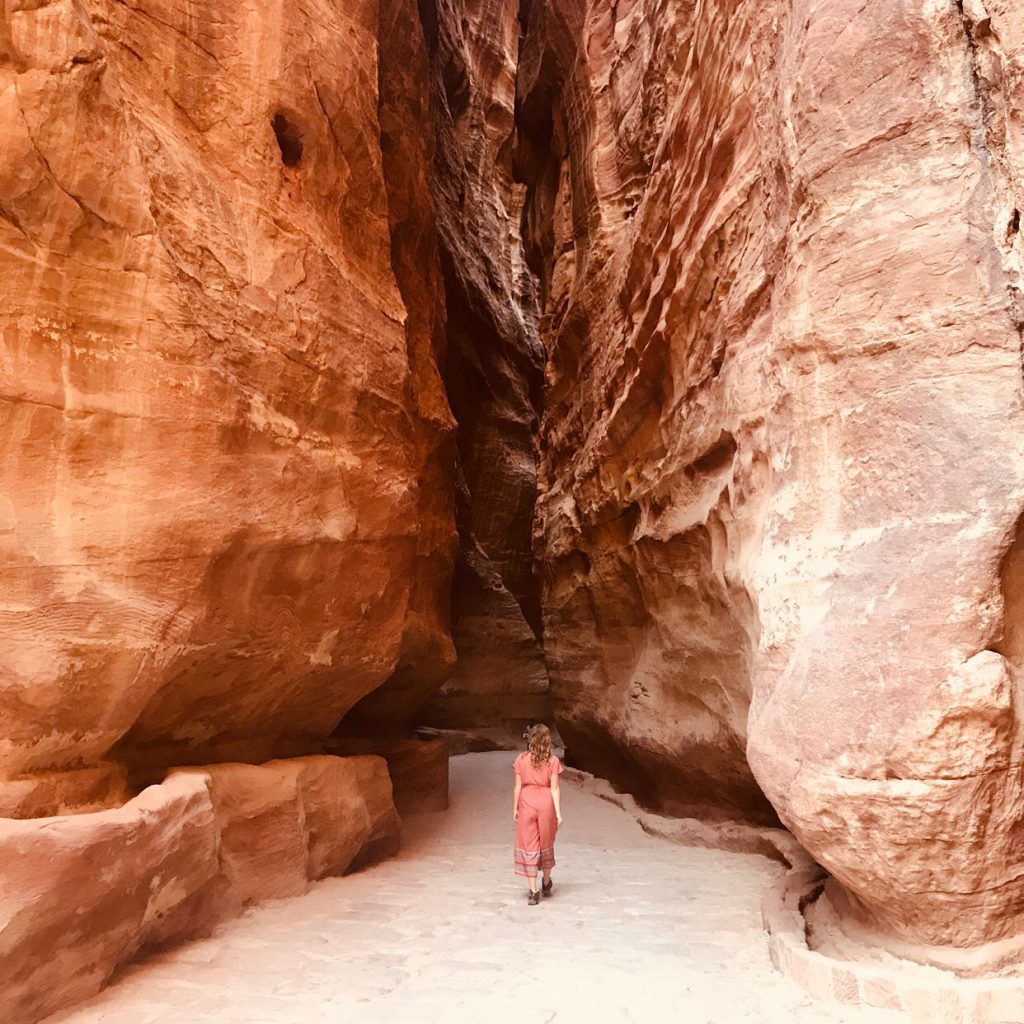 The Siq itself is already worth visiting Petra. For those who are not able to walk much, there are horse carriages that can take you to the Treasury. However, if you do not need this, I would definitely recommend to walk. This gives you the opportunity to enjoy the Siq at a slower pace. The end of the Siq is probably what everyone is waiting for: The Treasury. Here I would like to suggest to step away from your camera for a moment and take in the beauty of this building. After the walk through the Siq, there are more hiking trails of different levels. I would definitely recommend to do the Treasury from above and the trail to the Monastery.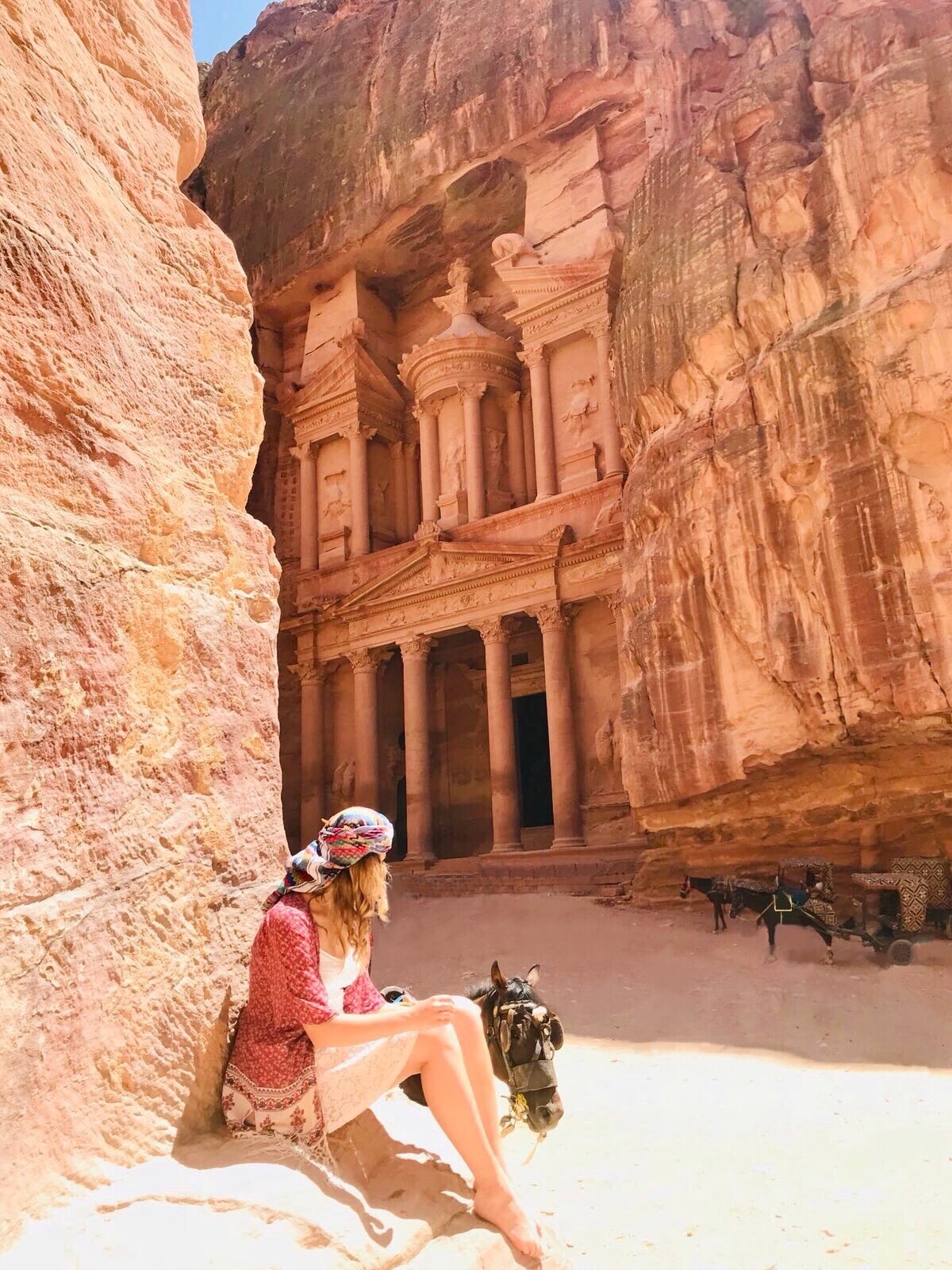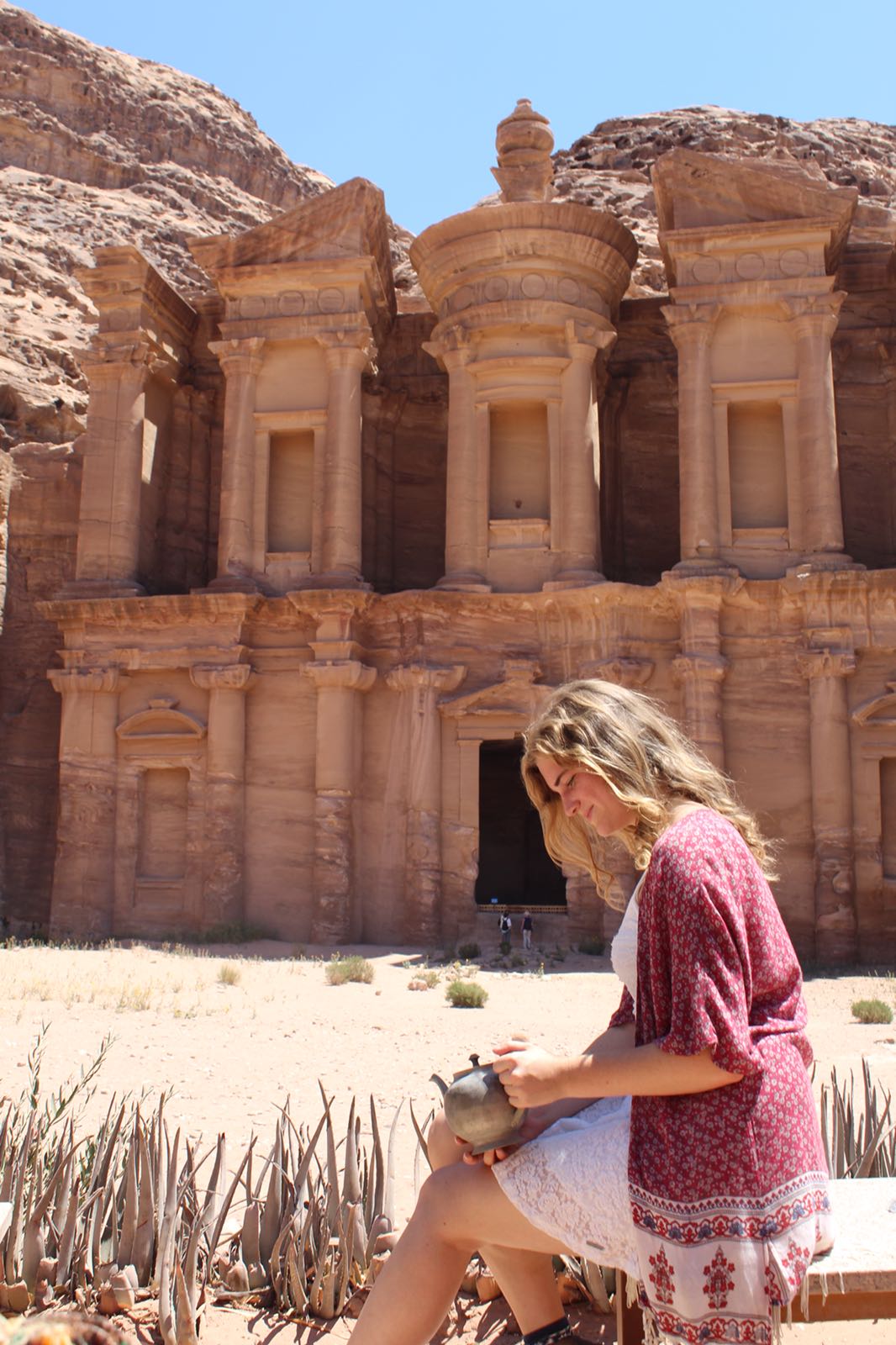 The easiest way to visit Petra is to stay in the village nearby called 'Wadi Musa'. Here are multiple hotels and restaurants. From the hotel, a shuttle to the entrance is offered, which is most of the times for free. The entrance to Petra is quite expensive (around 60 euros for 1 day) but I would definitely recommend to go at least 2 days. Besides buying your ticket at the ticket office at the entrance of the park, there is the option to buy a Jordan Pass before your trip starts. This pass includes multiple sites throughout the country and you can choose how many days Petra you want to include. In this way you will save some money, you are sure of your tickets and the visa costs for entering Jordan are included. I will share more tips about Petra in my Petra Guide later on my website!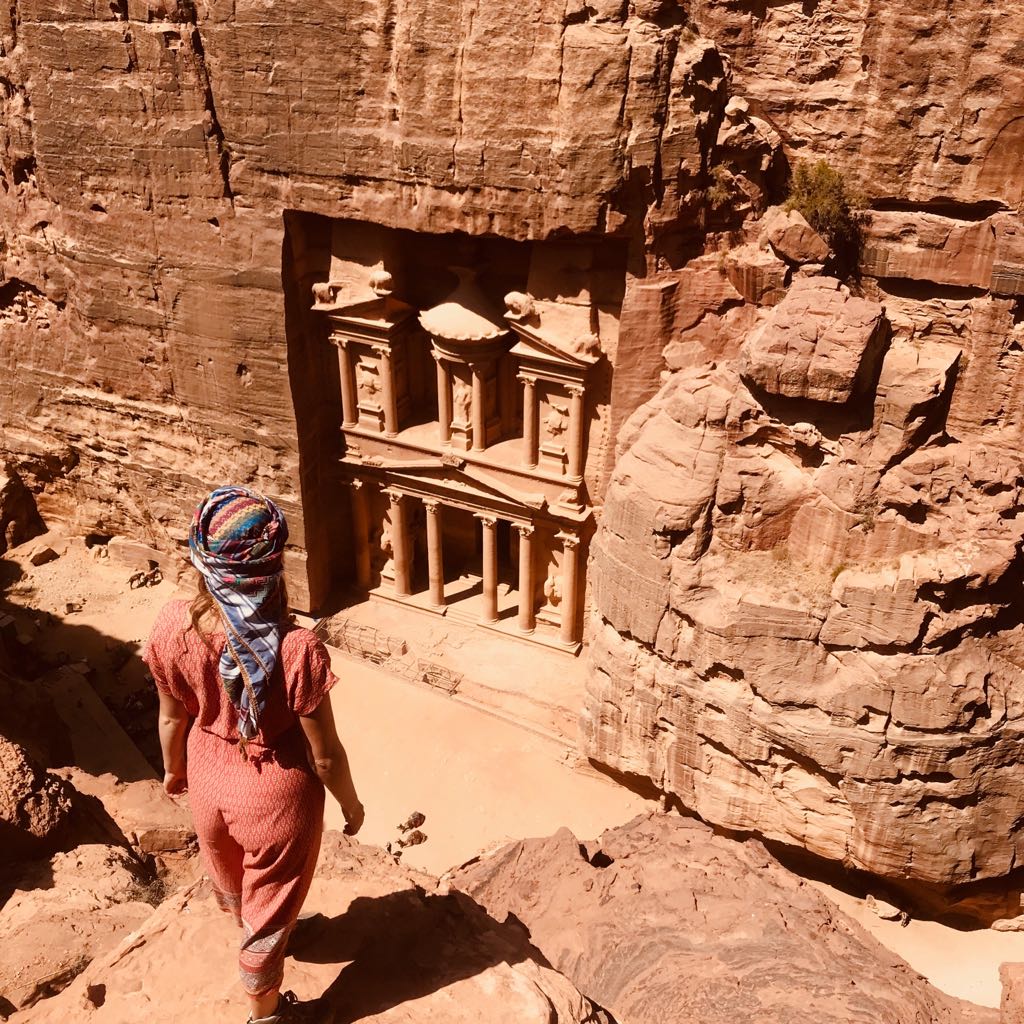 Of course, the Wadi Rum desert cannot miss in this list. Wadi Rum is located in the south of Jordan and is used in multiple movies (e.g. the Martian) because of its interesting landscape. We arrived at the entrance of the desert and here we had to wait for the owner of the camp to pick us up. He brought us first to Rum village where we had a tea in his house and discussed our wishes for the day and night.
We decided to do a 4×4 tour through the desert which dropped us off at the camp at the end of the trip. This was an amazing experience with a very nice driver who gave us the opportunity to stop often and give us time to walk around and enjoy the desert. We drove around the desert for a few hours, visiting some of the famous spots and even got to drive the car ourselves. It was a crazy but amazing experience to drive a 4×4 truck in the middle of nowhere with no path and just sand in front of you!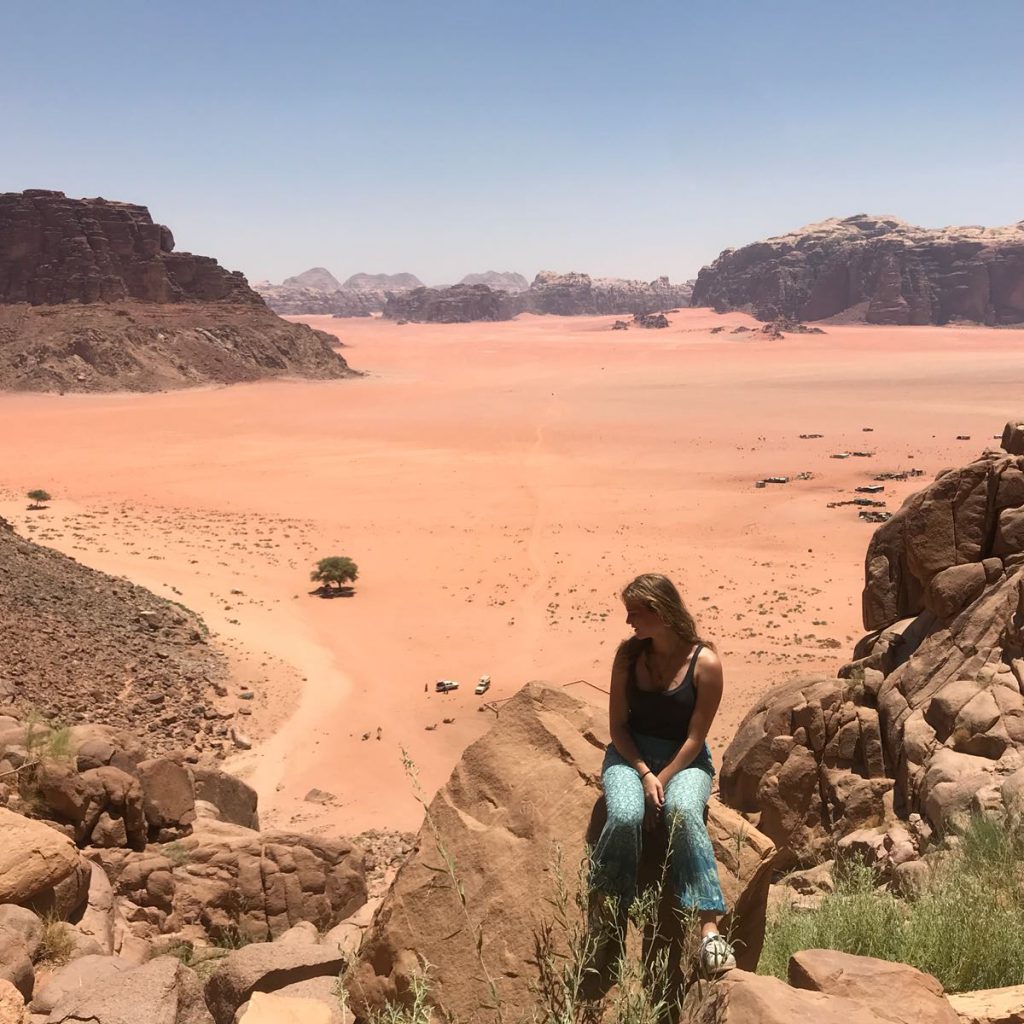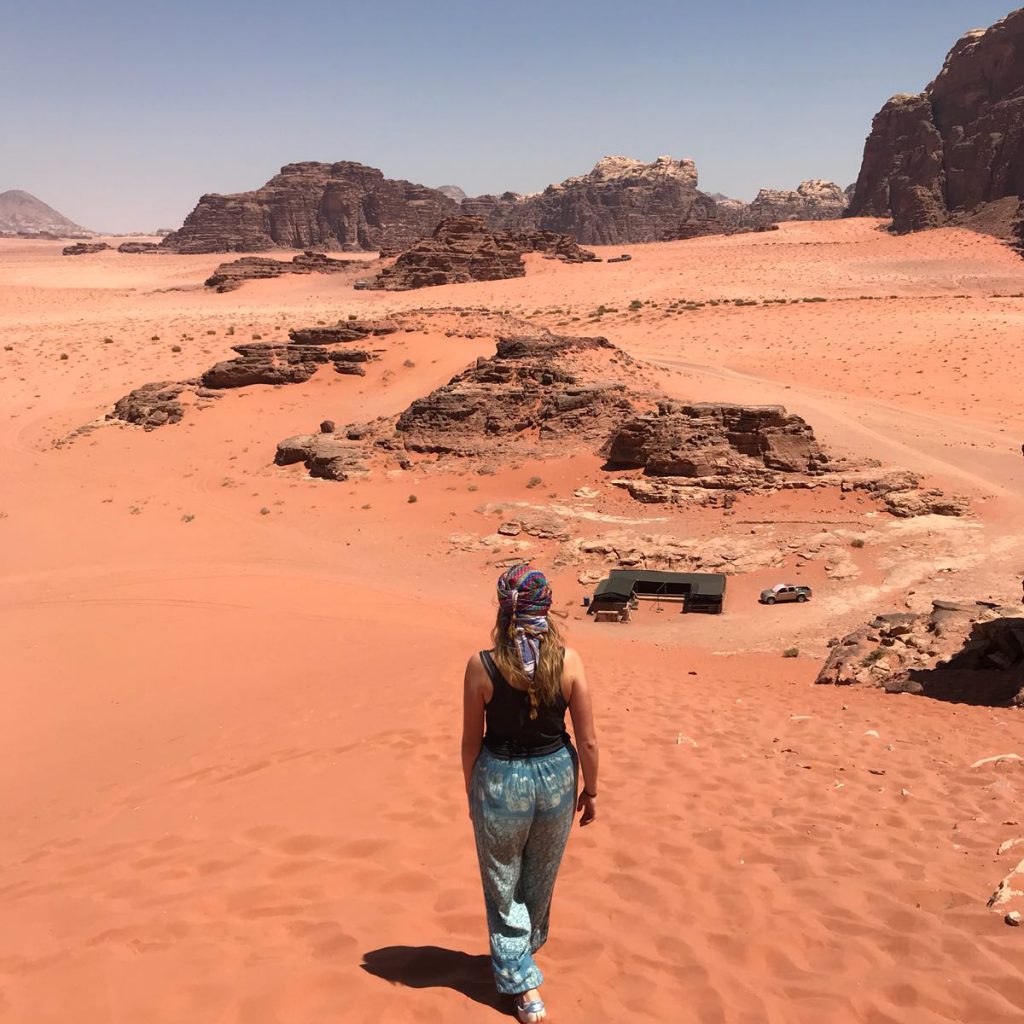 After the 4×4 trip we arrived at the camp where we would sleep. This camp is called 'Beyond Wadi Rum Camp' and is run by a five local brothers. There are a couple of tents with comfortable beds, a place to shower and to go to the bathroom and there is a small place to where you can eat your dinner. From the camp you see and hear nothing but the desert which creates an amazing and peaceful atmosphere. In the evening they prepare a traditional desert barbecue with the most amazing food. Even though I am a vegetarian I had one of the best meals of the trip here in the desert.
After dinner the staff goes home and you stay in the desert, you can drink a cup of tea whilst looking at the stars. We were there alone with only one other couple and the whole experience was just magical. After a beautiful night looking at the stars, we quickly got a few hours of sleep before waking up the next day in the desert.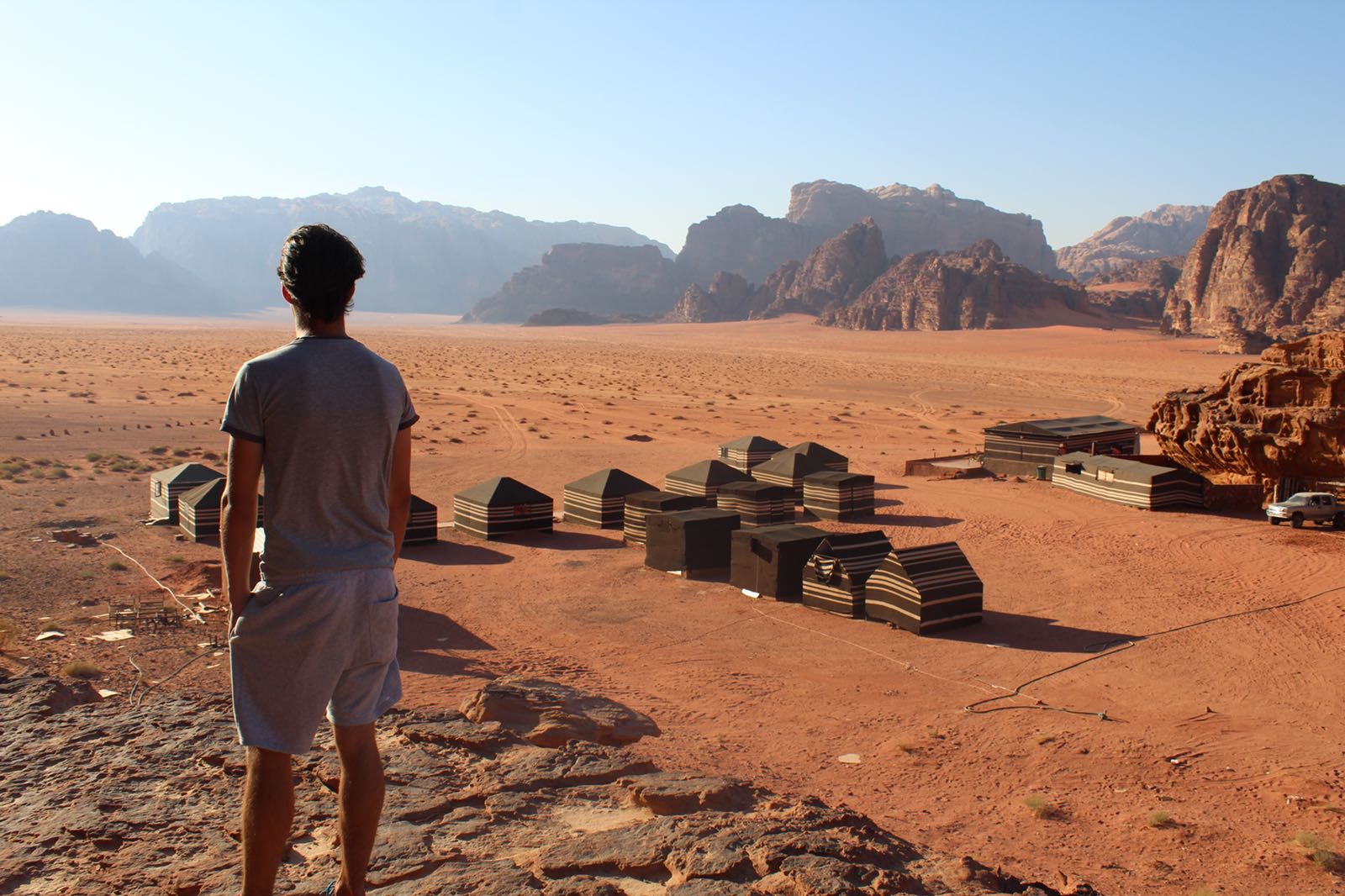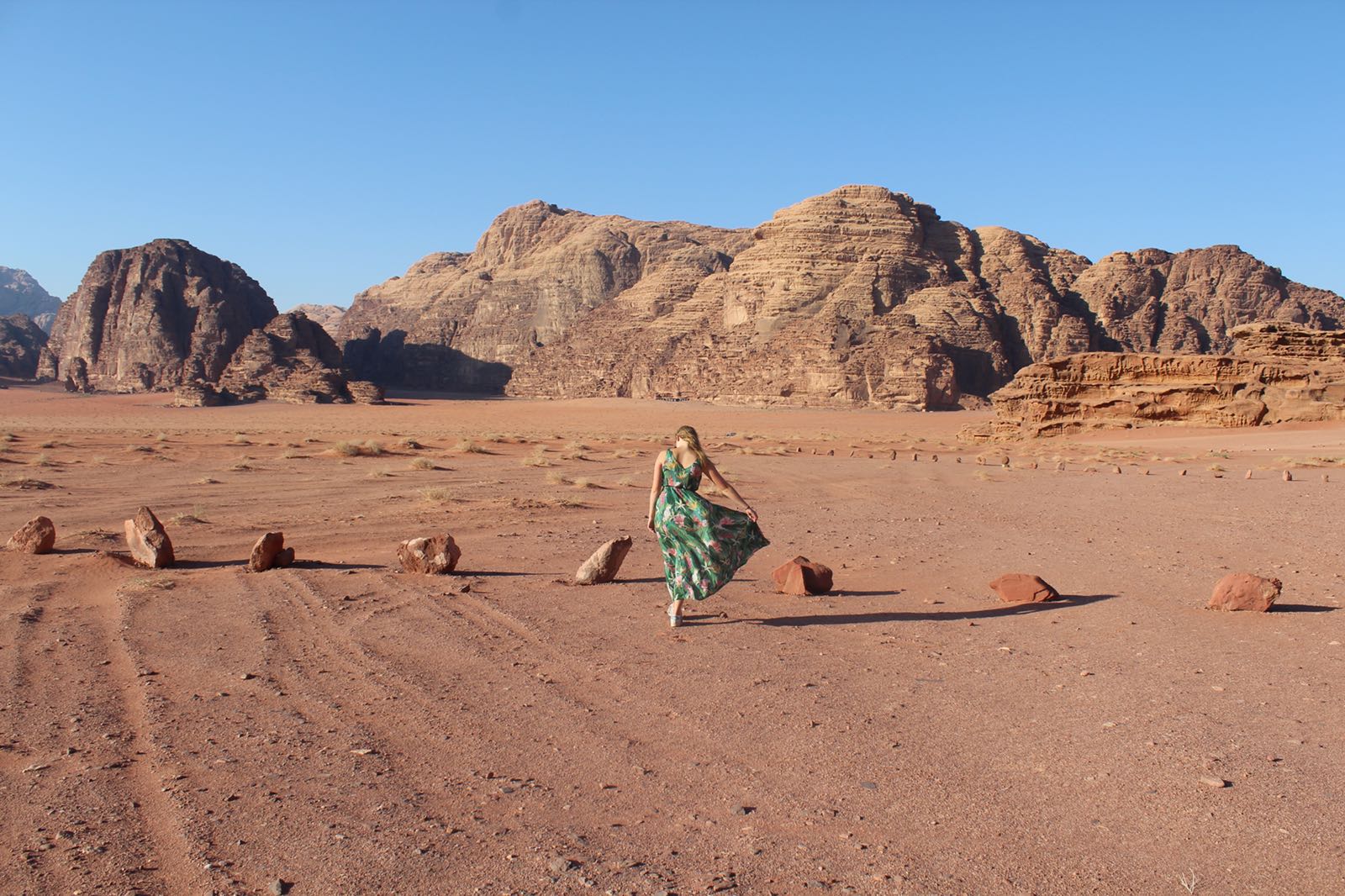 After breakfast we left the camp, this time not by 4×4 but by camel! This camel ride made the desert experience complete. Even though it was not the longest ride it was okay as camels are not very comfortable.. Still, it was an once in a lifetime experience to ride a camel in the Wadi Rum desert.
My tip for a good accommodation in the Wadi Rum desert is to look at the location of the camps. Our camp was located somewhere in the middle of the desert which creates a much more authentic experience than the camps located near the road. Here you will still hear the road in the night, which might ruin your peaceful desert experience.
When visiting Jordan, this place cannot not be on your list. Experiencing the lowest point on earth whilst floating and covered in mud.. do I need to say more? Unfortunately this place is drying up because of climate change and the sea already decreased a lot in size. From here, you are so close to the Israelian border that you can see it on the opposite side of the sea, which gives an extra special touch.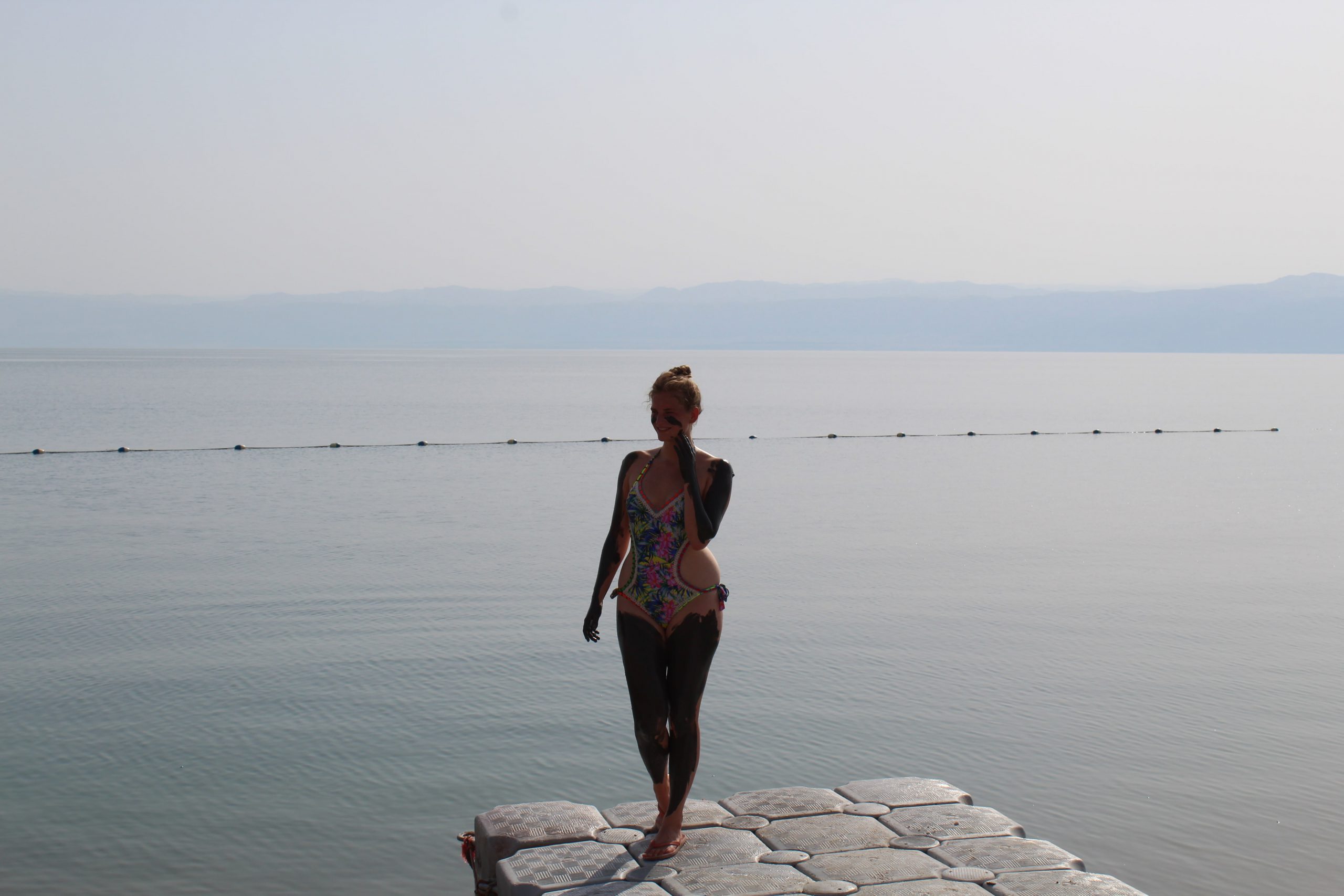 I do have to warn you though! As magical as this place sounds, it is wise to take some things into account before you dive in the Dead Sea. Point one: 'diving' not a smart thing to do as your eyes will hurt like hell because of the high amount of salt. Point 2: try to NOT visit the Dead Sea right after you sat on a camel or visited Wadi Mujib..
We arrived at the Dead Sea right after visiting Wadi Mujib (which I will tell more about below) with our legs and butts scratched and bruised from all the rocks in this big canyon. Without thinking twice about it, I covered myself in mud and went into the sea. What I did not expect was the high amount of salt being in the sea stinging my wounds so bad that I run out while crying and trying to shower all the mud and salt from my skin. What also did not help, was the temperature of the outside shower that was heated by the outside temperature of 44 degrees Celsius that day.. The benefit of this painful experience was that my wounds were completely gone the next day! The next day I was able to fully enjoy the Dead Sea and experience this natural wonder.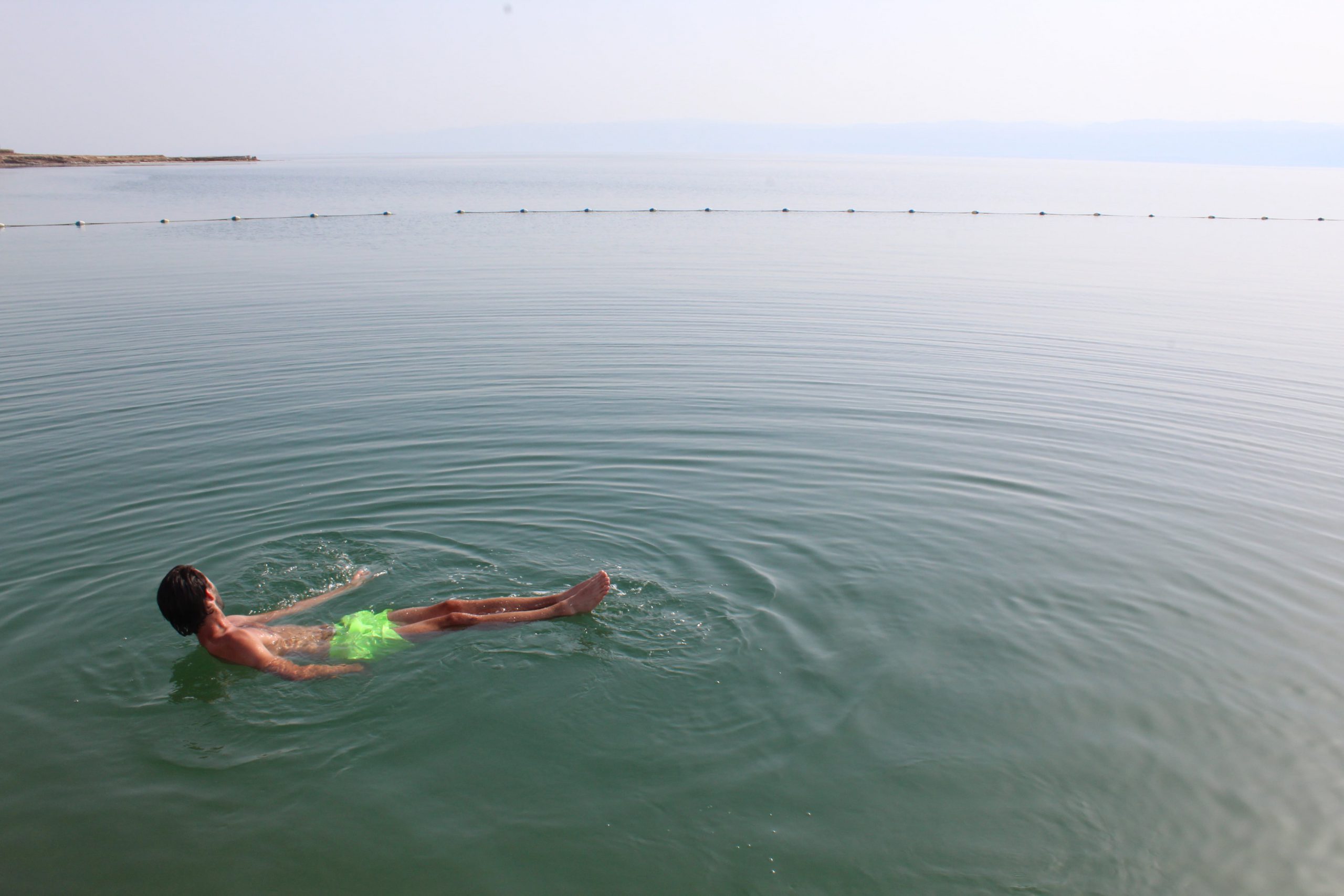 The easiest way to get to the Dead Sea is to stay at one of the resorts located at the shore. These resorts often have a few swimming pools, restaurants, spa's and direct access to the sea and its healthy mud.
This place is maybe a bit lesser known by the wider public, but definitely worth a stop. Wadi Mujib is a big canyon offering a few different trails for the more adventurous travellers. What makes this canyon special is the cool water rushing through, creating a real canyoning experience. When we were there, there was only one trail opened because of safety reasons. This trail was the 'easiest' one and is allowed without a guide. The river starts quite calm and you can manage to stay dry for some time. At one point, the river gets smaller, deeper and rougher and you need to swim, climb and slide through the canyon. Sometimes strong currents are difficult to conquer and this makes some people to give up before the finish line: the waterfall at the end of the trail. Luckily, we all managed to make it to the end and we were able to see the full beauty of Wadi Mujib.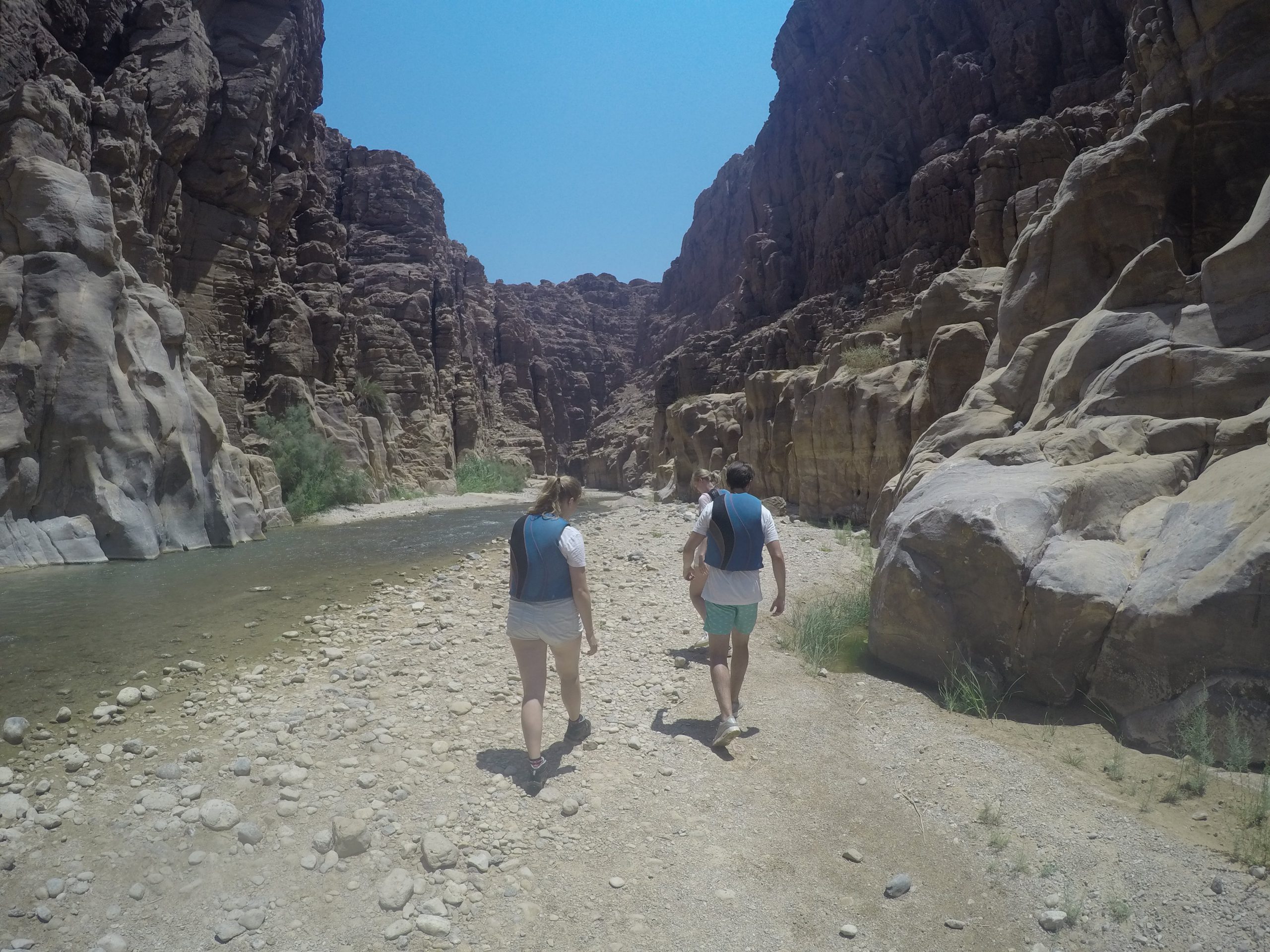 On the way back, you take the same route but this time you would let the river guide you downstream. While laying in the water, you will probably bump into a few unexpected rocks (which caused the scratches) but it is worth the experience of complete freedom!
Because the entrance of Wadi Mujib is next to a road, we were afraid to leave our valuables in the car. Being the well prepared person I am, I brought a drybag. So we decided to bring our passports, money and one phone with us to the canyon. We thought that this was a smart decision as we had the drybag right?! Unfortunately our drybag was not 'rock-proof' and on the way back it got a scratch which caused water getting in our bag. When we got out of the water, we saw that the phone, the money and the passports got ruined.. So be careful with trusting drybags! I still get questions at border controls if I went swimming with my passport haha..
Even though, we lost almost all our pictures of that day, our belongings got ruined and our bodies got scratched, Wadi Mujib was definitely worth the visit!
This is the place where our journey through Jordan started and we could not ask for a better start. Amman is the capital of Jordan and is home to some very nice hotspots. Our hotel was located across the Roman Theatre and within walking distance of the Amman Citadel. This citadel consists of a few ruins on top of a hill, but what is more impressive is the view from here. You can see the whole city and during a call for prayer this place turns magical for a few seconds.
Besides these ruins, Amman has also some great food to offer. Jordan cuisine is all about small dishes called 'Mezze', which include pita, hummus, baba ghanoush, falafel, haloumi cheese etc. There is one particular place in Amman which is famous for its falafel: Hashem Restaurant. Without ordering anything, they will come to your table and fill it with all kinds of mezze. We had the best falafel ever and we only had to pay around 6 euros for the whole table.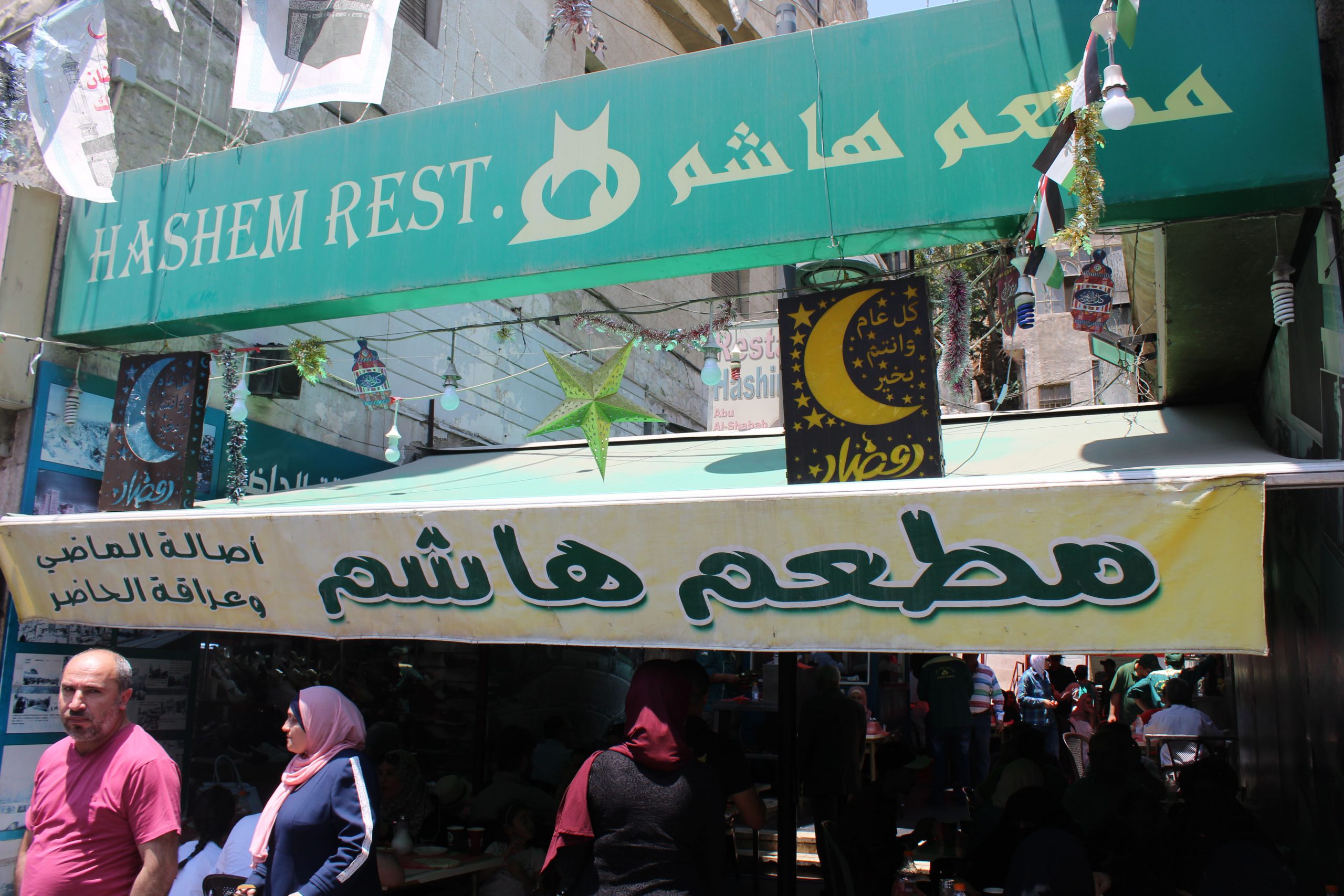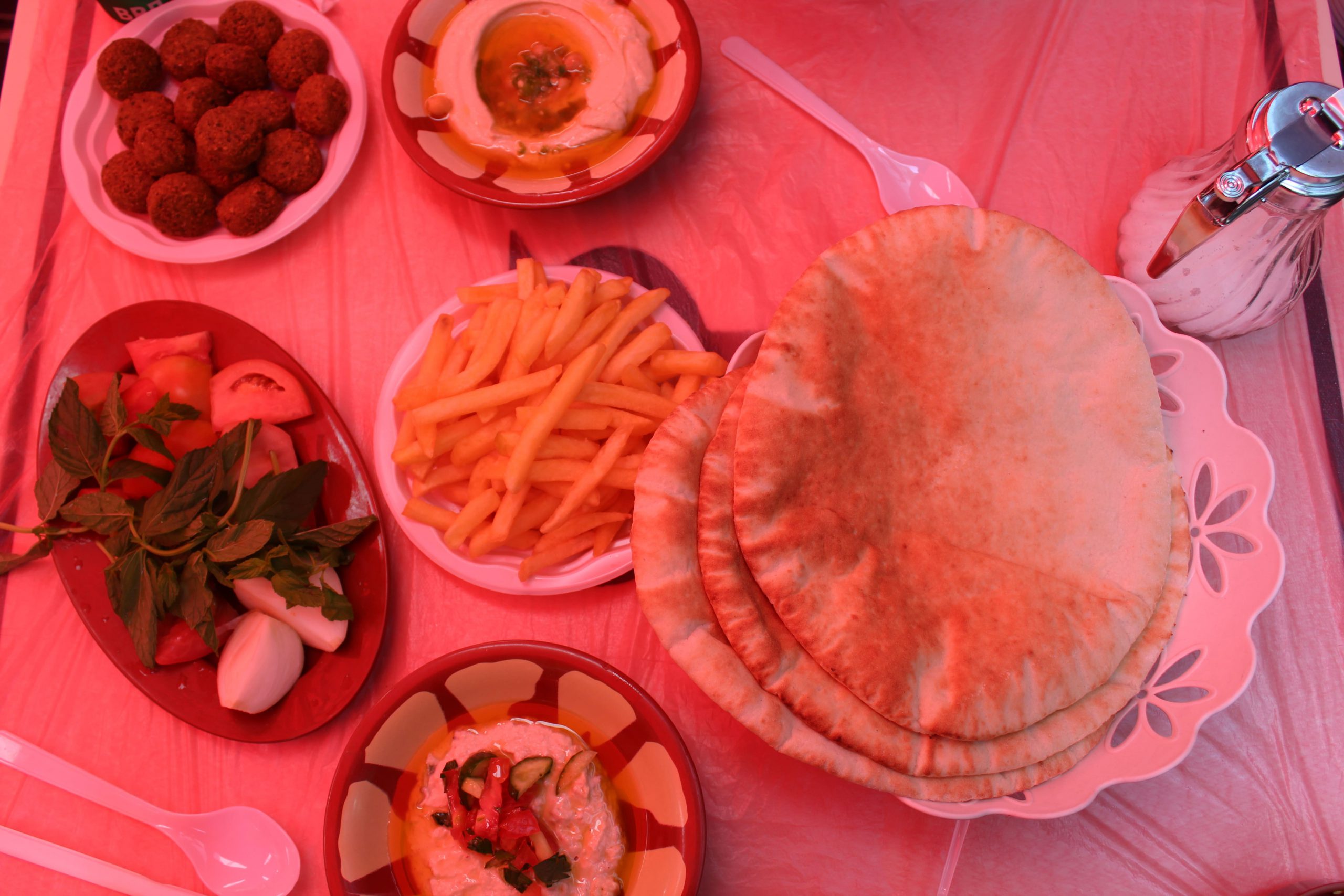 There are lots of options for accommodation in Amman, however we very much liked our stay at the Amman Pascha hotel. This is because of the local people that we met here. Every evening they would sit on the rooftop, make music and sing songs. We were invited to sit with them and they shared stories about Jordan with us. The second night we even got invited to go to the rooftop bar of the W hotel, which is the place where the elite of Jordan comes to party. This was an once in a lifetime experience and Amman became one of the highlights of our trip because of the people we met there. The hotel is also home to some very cute animals like rabbits, guineapigs, owls and chipmunks!
Amman is also perfect for daytrips to, for instance, Jerash. Here, we met someone from Syria who invited us for a lunch at his home. Here you can read more about this memorable experience!
Madaba is a city located near Amman and the airport and is famous for its floor mosaics. We stayed at a very nice hotel in the centre called: Saint John hotel. With a very nice view on the mosque from the restaurant and bar, where you can order a nice lemon mint (must try when you are in Jordan!!).
In this small city you can find the Saint George church with a mosaic on the floor showing the oldest map of Palestine. Besides this historical aspect is Madaba a very nice destination because of its friendly and welcoming inhabitants. I liked our time in Madaba, because of the relaxed atmosphere and the kind people. Everyone was friendly and we were able to explore the city on foot.
During our time in Madaba, we had one of our best meals of our trip through Jordan at: Haret Jdoudna. I can definitely recommend ordering the Fatteh Makdous here, which is an eggplant dish with yoghurt, pine nuts and crispy bread and it is simply yummie!!
Some general information..
Jordan pass
During our Jordan trip, we used the Jordan pass. You can buy this pass online and enjoy some nice free entries to sites in Jordan. With this pass you can also include the entrance to Petra and choose how many days you would like to visit this wonder of the world. Another benefit of the Jordan pass is that it includes your Visa on arrival! So when you entre the country, you can just show your pass and you will get your visa! Find more information on: https://www.jordanpass.jo/ (non spon)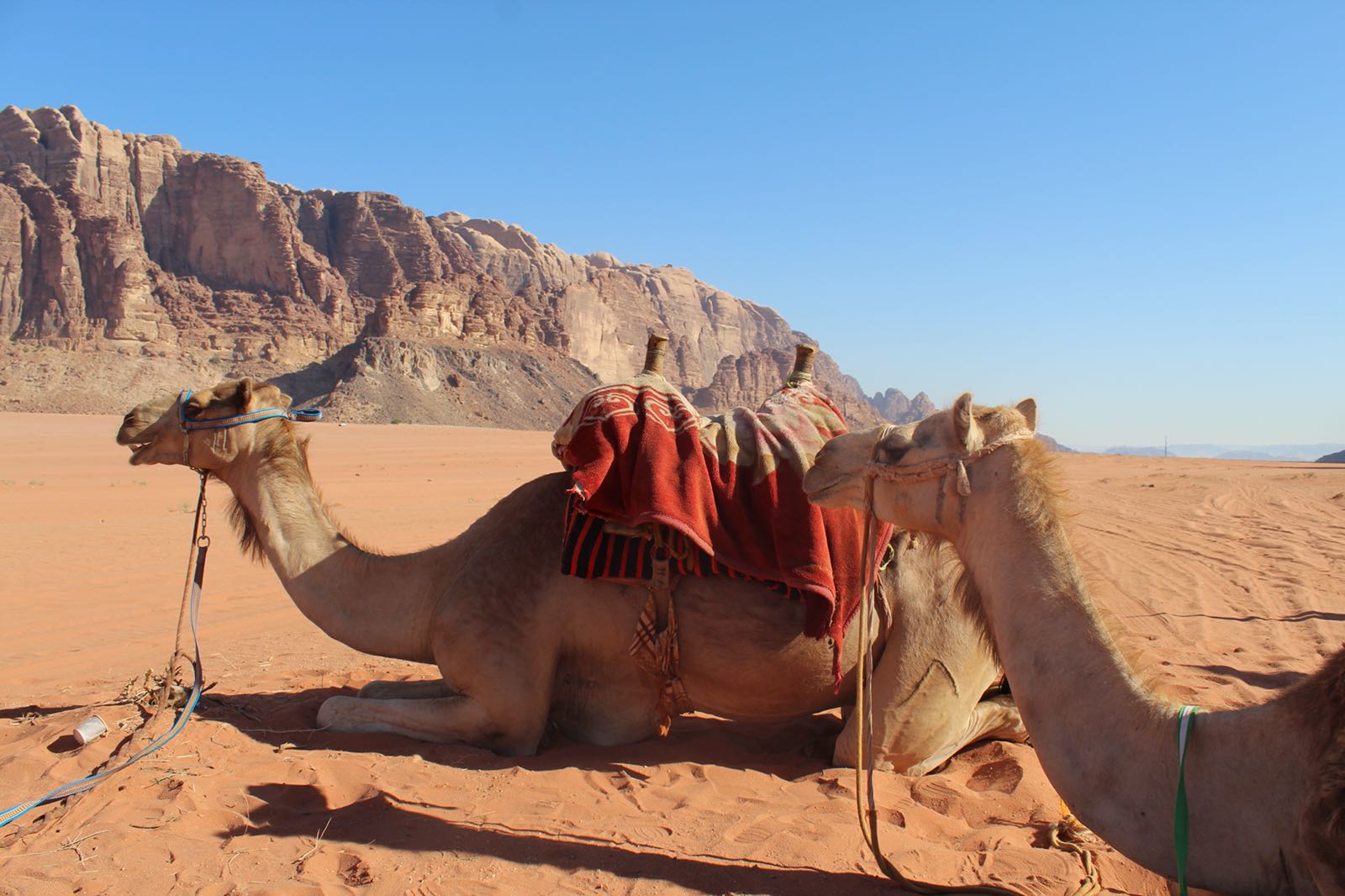 Public transport
I love to travel a country by myself and make use of public transport. Using public transport is environmental friendlier than going by private taxi or by car and gives you the opportunity to get closer to the local community. We had some nice but also challenging experiences with the public transport in Jordan. There are no trains in Jordan, so you will have to take the bus. These busses are not reliable and often leave when its full, so if you are on a tight schedule, this might not be the best option. This is why I was very happy that we had many days in Jordan, so we could travel at a slow pace. Often busses to other cities only leave once per day and are packed with people.
As two Western people in a bus full of locals, we got a lot of eyes looking at us, but also a lot of friendly faces. On one bus ride from Kerak to Wadi Musa, my boyfriend got asked if he could arrange a Dutch visa for the person sitting next to him haha.
We travelled from Amman all the way south to Wadi Musa by bus, which was perfectly fine. A few days later we were supposed to take the 6 am bus to Wadi Rum, but as we were lucky to meet a Dutch couple with a car, we could travel with them to the desert and later to Aqaba, Wadi Mujib and Madaba!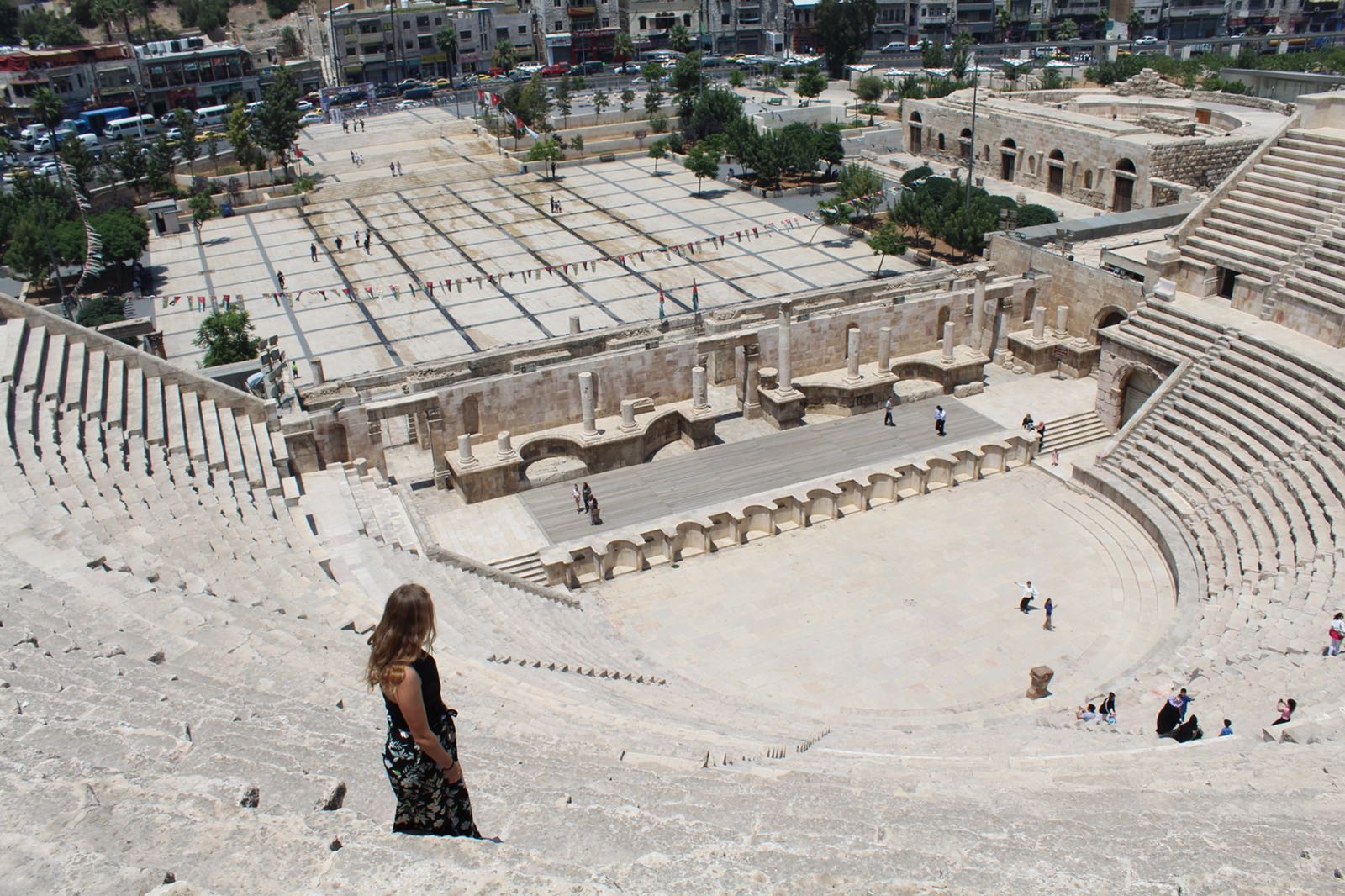 How to dress in Jordan
We travelled to Jordan in July, which means that the temperature was around 35 degrees celcius, with a peak of 44 degrees celcius at the Dead Sea. Even though it is hot during the day, there is almost everywhere a nice breeze and in the evening it also cools down to a nice temperature.
However, as a big part of Jordan is Muslim, it is wise to always cover your shoulders and knees as a woman and also cover your shoulders as a man. Not only as a way of showing respect to the local culture, but also to avoid getting unwanted attention.
I would suggest bringing loose fitting clothes that are made of thin fabric to keep you cool. We also liked to wear a scarf on our heads that we bought in Jerash, which not only looks awesome on pictures, but also protects your head from burning.
If you like to go to one of the fancy rooftop bars in Amman like the one at the W hotel, make sure to pack some fancy clothing as casual outfits will not be allowed inside. We got almost denied because my boyfriend was wearing shorts.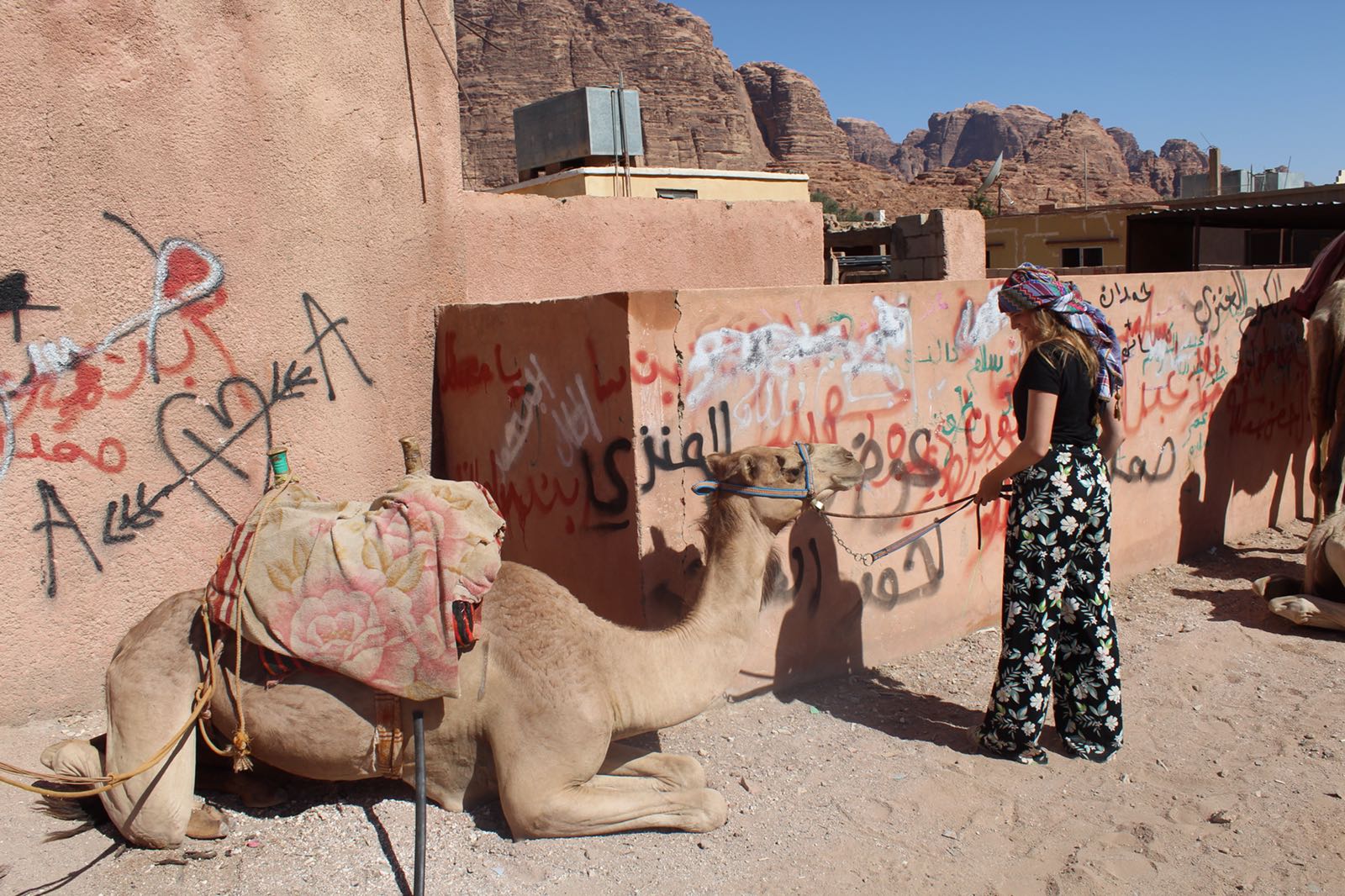 If you have some questions about our Jordan adventure or other remarks, please leave a comment or contact me!