Bologna might not be the most famous city in Italy, but it is definitely worth a stop during your trip through Italy or as a nice city trip! In this blog, I will share my tips on how to spend a perfect full day in this amazing city. I was lucky to call Italy my home for 6 months, and I think Bologna turned into one of my favourite cities of the world!
I always love to start my city trip with seeing the city from above. This way you get a nice overview of a big part of the city and from here you can get clearer view on where you are in the city. This is why I would suggest to start your day (when it is also not so hot) by climbing one of the two towers. These towers mark the centre of Bologna and provide a beautiful view of the city. From here you can see why people call Bologna 'La Rossa' which is Italian for red.
The climb is rather scary (in my opinion) as you have to climb the tower by a never ending amount of wooden steps. It is quite exhausting if your condition is like mine haha, but then you will only appreciate the view more afterwards! You need to buy the tickets in advance as there is no ticket office at the tower itself and you need to buy a certain timeslot. The easiest way is to buy your ticket at Piazza Maggiore (the main square in the city) at the Bologna Welcome shop. Full price 5 euros, reduced price (e.g. kids, elderly and students) 3 euros.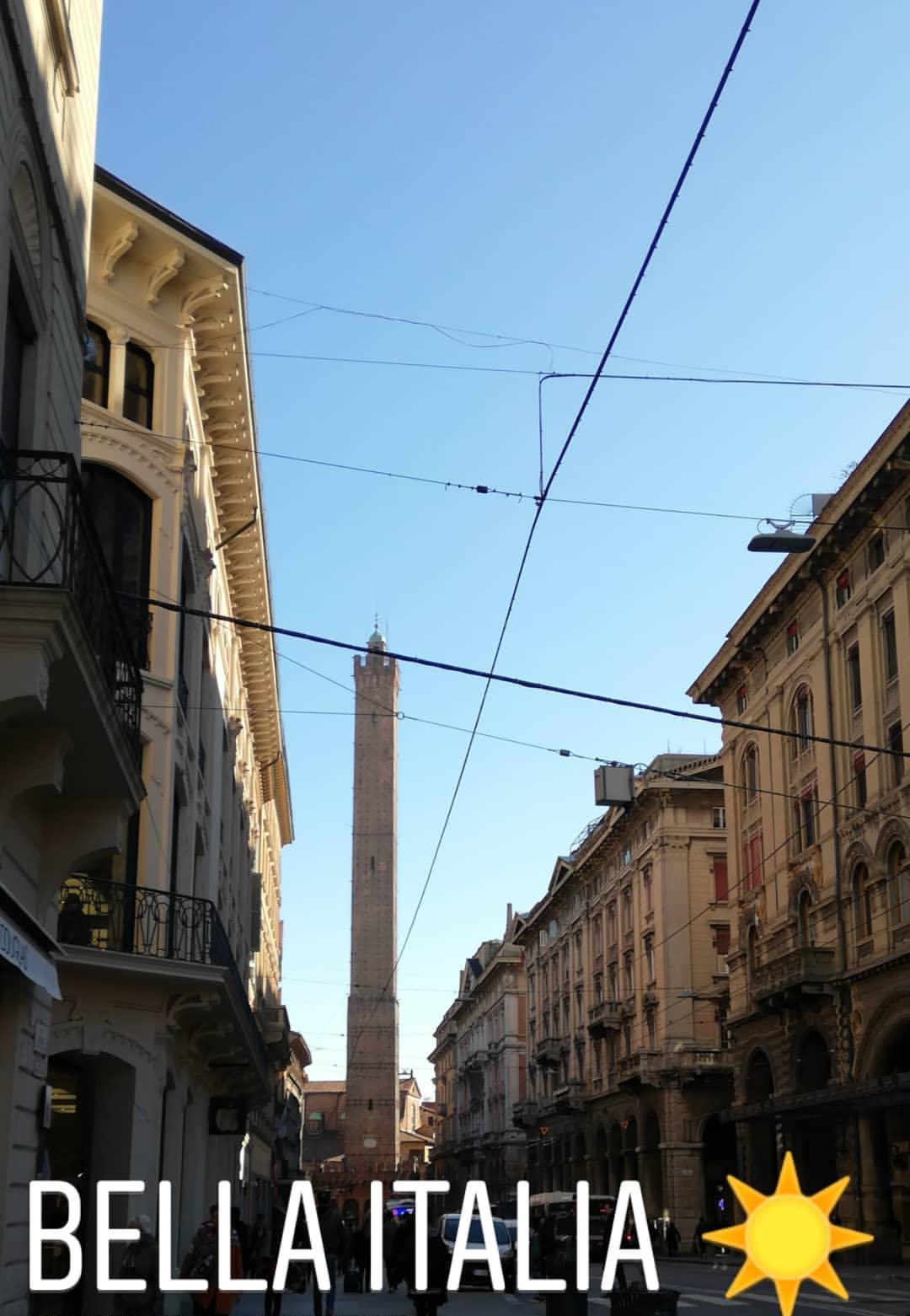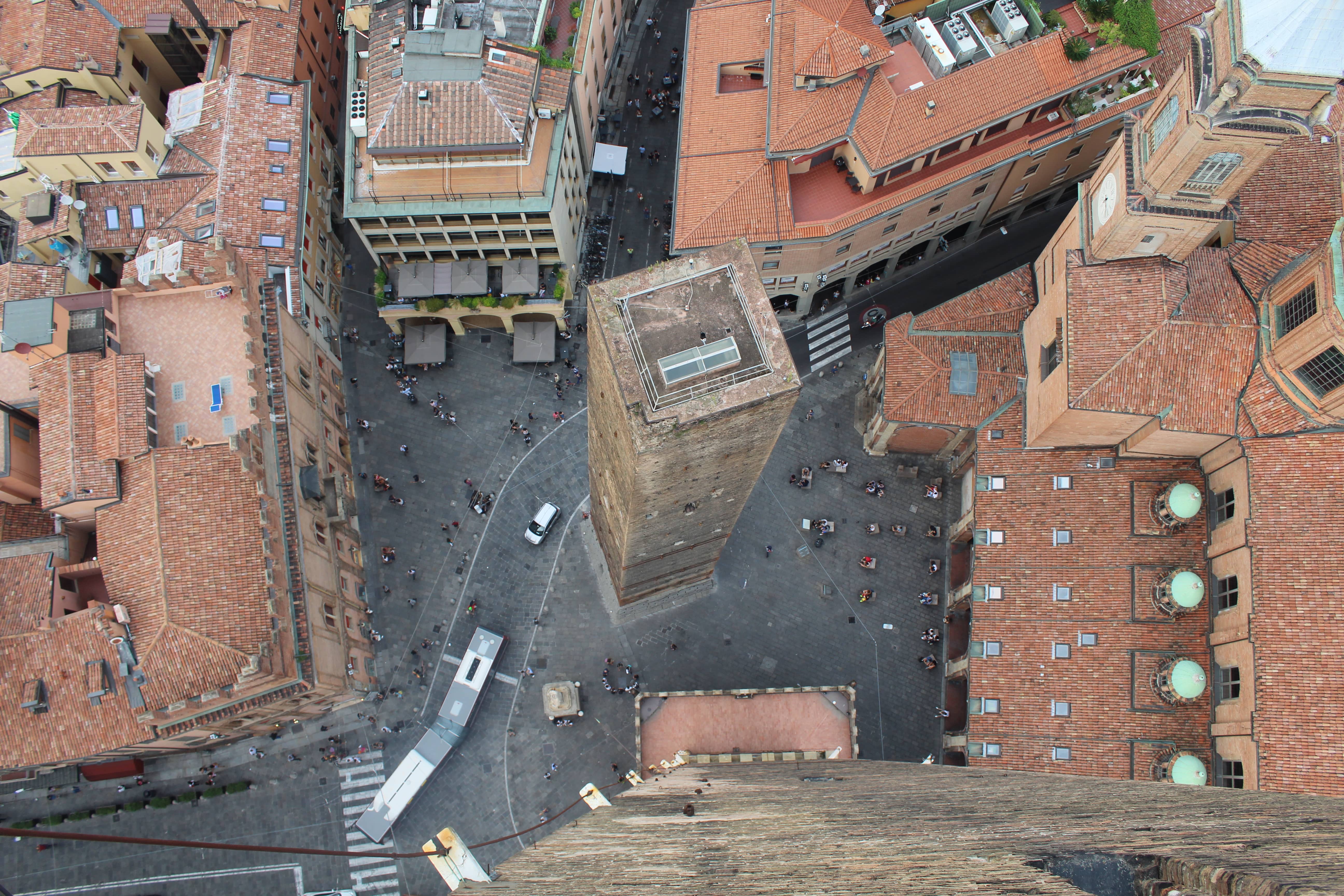 Lunch at Osteria dell'Orsa
From the Due Torre go north to find the place to have lunch: Osteria dell'Orsa. Osterias are known as typical Italian restaurants with a homely atmosphere. As Bologna is the home of Tagliatelle al Ragu this is the best place to try some of the amazing Italian kitchen. As I am vegetarian I could not try the Ragu but I had tortellini filled with vegetables, which was also delicious. I recommend this place as there are lots of local people coming here, I was the only tourist at that time and it really felt like a local experience.
After lunch, you can walk a bit further and see the Finestrella. If you are in high season you do not have to look a lot to find it as you will probably see some tourists around it. But if you are in low season it can be a bit difficult to find. This is because it is only a small window which shows you a bit of the old canals of Bologna. Unfortunately, both times I went to see it, half of the houses at the canal were in construction. But it still was a cute experience.
Walk to Santuario di San Luca
If you are feeling active, you can decide to do the walk to the Sanctuary of San Luca. This basilic is located outside the centre of Bologna on top of a hill. The walk takes around 3 hours and a large part of the route will include the arches of Bologna. The walk is long, but it is a beautiful route with a lot of nice views (including the stadium of Bologna). 
Once you have reached the top, you will be able to go to a small rooftop, from where you will have a nice view over the forest. You will also be able to see the Due Torre from a far distance. The nice thing about this rooftop is that you can only reach it by climbing a stairs inside the basilic. At this point, you will be in between the roof and the basilica's inside, which creates a weird but special feeling). If you are too tired to walk back, you can also wait for the little train that will bring you back to the city centre.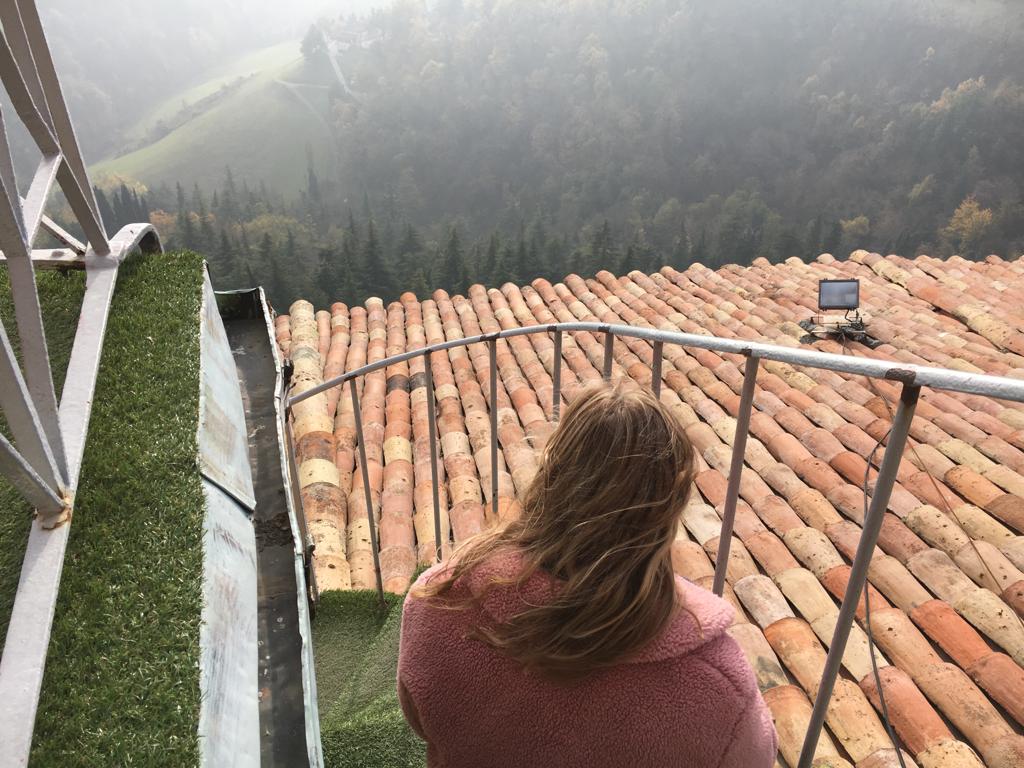 After this long and exhausting walk it is time for an Italian tradition that I really like: aperitivo. As Bologna is the main food capital, this is your place to be for a good aperitivo! The places I like are located next to Piazza Maggiore: Via Pescherie Vecchie and Via Clavature. Here you will find multiple spots where you can order nice plates full of Italian cheese or meat with a good glass of wine. But make sure that you do not eat too much as the last stop of this day will be a place to eat good old pizza!
Eat pizza at Zapap Pratello
A trip to Italy is of course not complete without eating a pizza! This little place has a terrace outside where you can sit and enjoy their delicious pizzas. I recommend having a pizza with fresh buffalo mozzarella! They put the mozzarella on the pizza after it has been in the oven, so it melts a bit but the good flavour stays. I liked this place not only because of its good pizza, but also because of the feeling to be in a spot where also Italians eat. And of course, because I made a little friend here!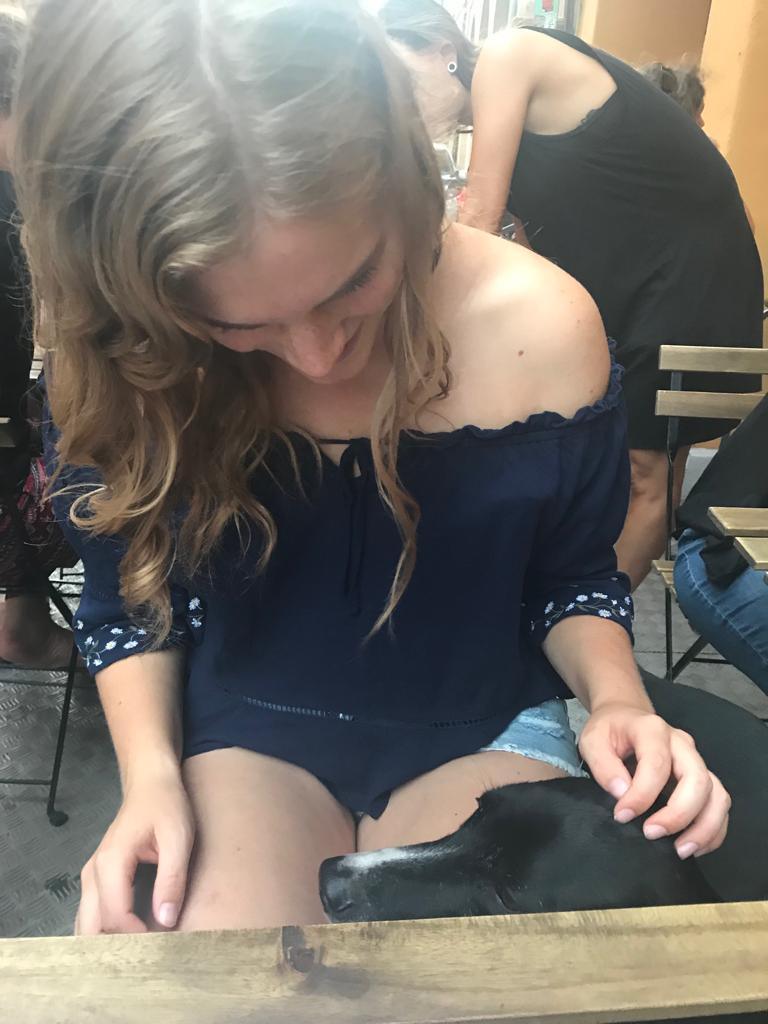 Besides these tips, Bologna has countless beautiful buildings, squares, churches, streets and shops to discover. To me, Bologna always felt like coming home. The whole atmosphere of the city is different than in the big tourist cities like Rome and Venice. It is cosy and the ambiance is amazing. I would suggest to eat as much Italian food and drink as much Italian wine as possible to get the real taste of Bologna!
Do you have any questions or another remark? Leave a comment or contact me!