Essaouira, formerly known as Mogador, is a city at the Atlantic coast of Morocco. This town, famous for its harbour and great wind- and kitesurf spots is the perfect relaxed getaway from cities like Marrakech and Agadir. Being used as a filmset for the popular tv series 'Game of Thrones' make that the visitor numbers increase quickly.
Often people only go to Essaouira in a day trip from Marrakech, however I would definitely recommend staying a few nights in this beautiful and relaxed sea side town! Besides the fact that it is around 3 hours driving from Marrakech, it has a lot to offer to those who stay longer than a day. In this blog I will share my tips for a perfect stay in Essaouira, Morocco!
This is the place that every Game of Thrones fan will probably recognize. This iconic fortress  functioned in the 18th century as protection for the entrance of the harbour and the rest of the city. Now you can enter the squared tower, walk on the fortified walls and enjoy the beautiful views on the ocean, the harbour and the medina of Essaouira. Do keep in mind that, even though a lot of blogs say differently, the entrance fee of this Skala is 50 dirhams for foreigners and not 10 anymore!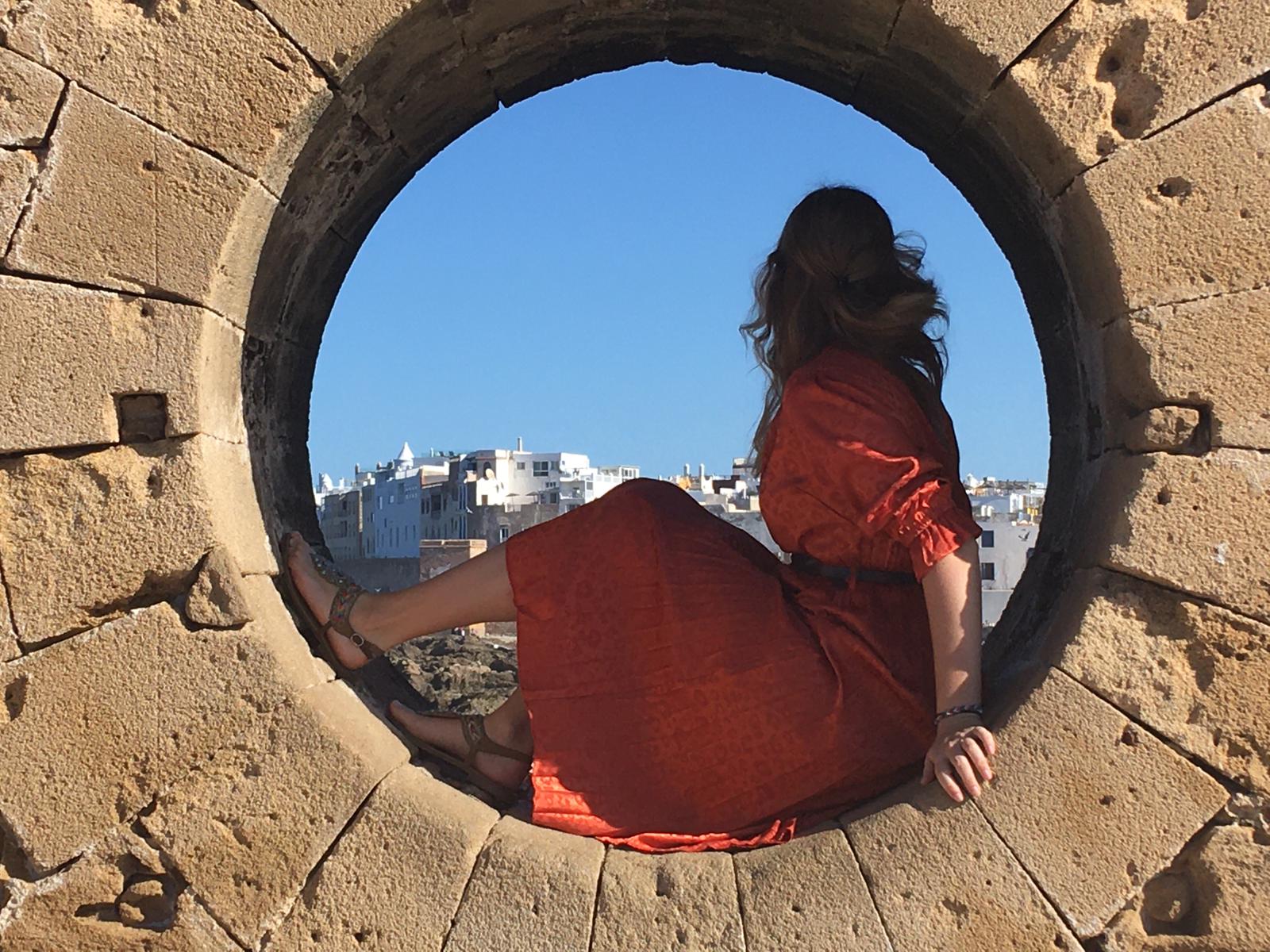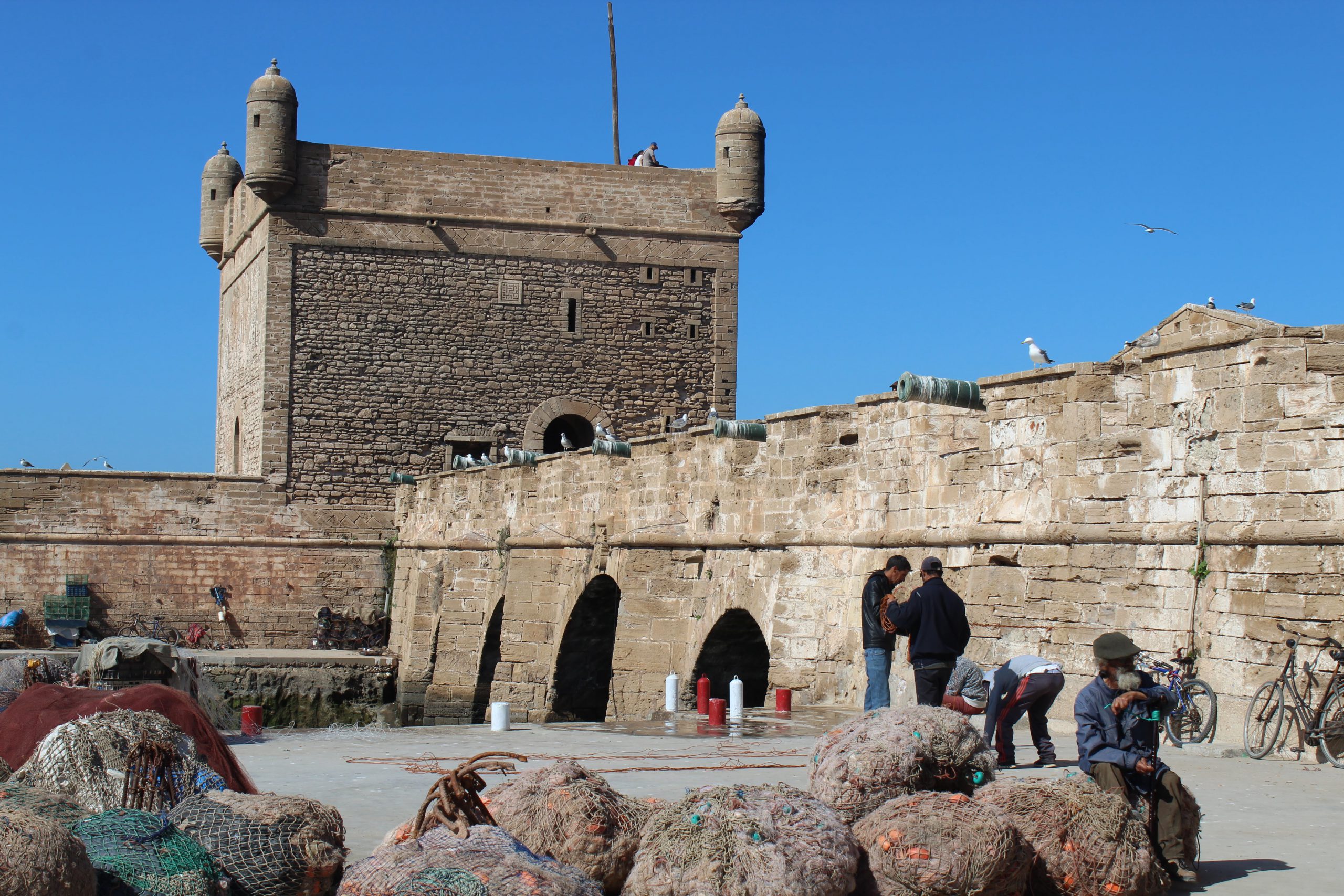 Coming from the medina of Essaouira and passing the Skala du Port, you will enter the harbour. This harbour is characterized by lots of blue fishing boats and fish being sold everywhere you look. If you have a sensitive nose, this place might not be good for you. However, if you are able to cope with the smells, this place is very interesting to walk around. Here you can see locals selling and buying the freshly caught fish and count all the different species that are on sale. If you want to experience some of the local life in Morocco, this is the place to be.
Other than the other Skala, this one is free to enter. This part of the fortress has also great views of the Atlantic ocean and contains nice shops for souvenirs. Combine a visit to these walls with a stroll through the medina.
The medina of Essaouira is worth mentioning by itself. This medina is more wide and relaxed in comparison to the medina of Marrakech. Wander around this rather small medina and enjoy the white-blue coloured walls and beautiful colourful doors.
What I like about Essaouira is its relaxed atmosphere. Other than that, it is also a very artistic place with lots of beautiful galleries showing work of all kinds of artists. Everywhere in the medina there are little shops with people working on their latest art and often for a small amount of money, you can already buy a nice and unique piece of art. Last time I visited Essaouira, my parents and I discovered a tiny place in one of the outer parts of the medina, selling cute drawings and paintings of Essaouira and its animals.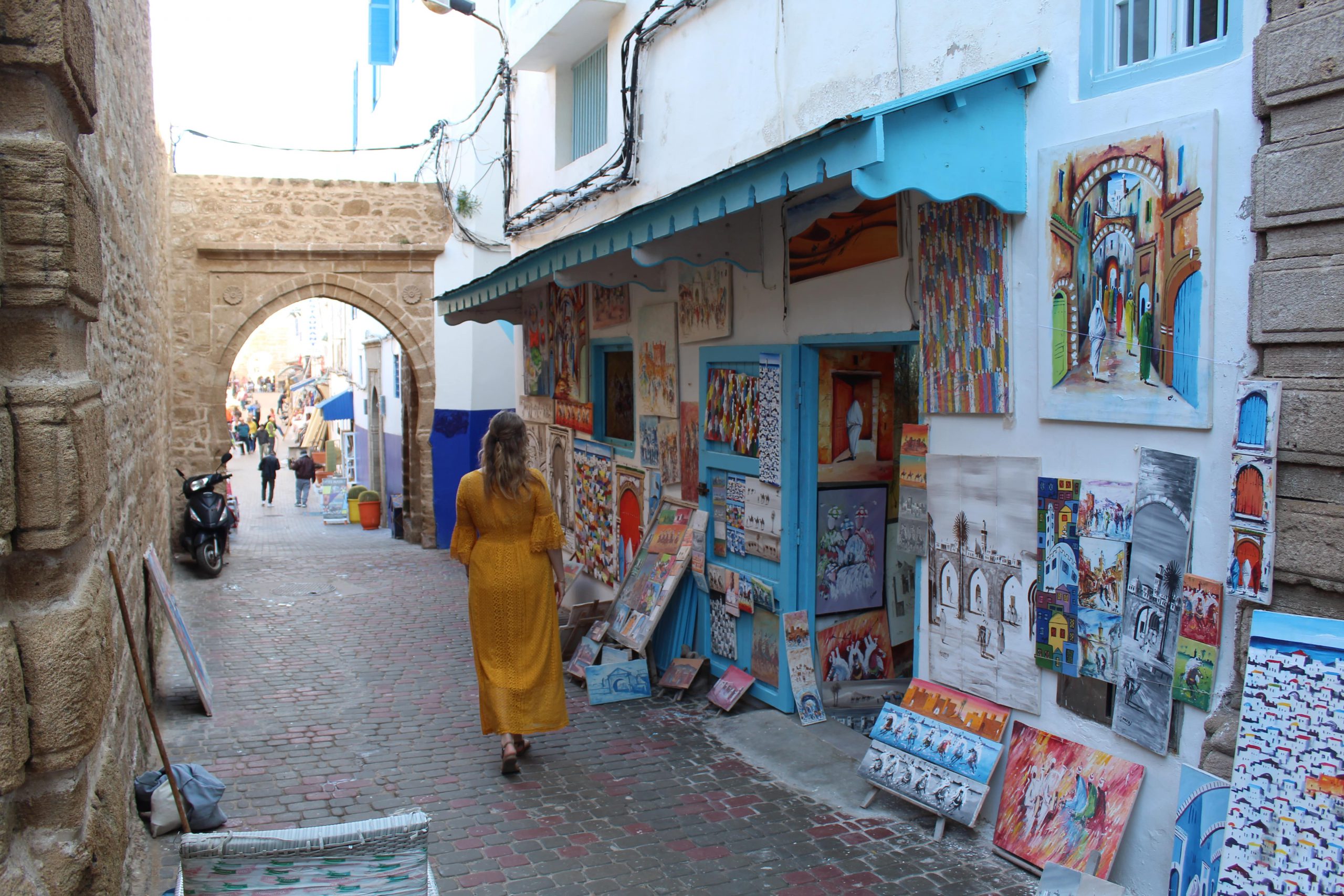 Essaouira is also home to a big and beautiful beach. However, as you might know, Essaouira's nick name is 'the Windy City' so do not expect a nice and relaxed day sunbathing at the beach as you will probably get covered with sand haha. Still the beach of Essaouira is worth a visit because of its great opportunities for wind- and kitesurfing! And for those who never tried it, or want to improve their skills, there are lots of surf schools offering lessons! If you are feeling a bit less active, or if you are visiting in the winter (and you find the water too cold for a swim) there are camels and horses waiting on the beach for people to go for a ride.
Listen to live music at the Moulay Hassan Square
This main square in between the harbour and the medina of Essaouira is always busy. People are having a drink at one of the terraces, walking around or listening to some live music that is performed by local musicians. The music brings a nice atmosphere to the square with a real holiday feeling!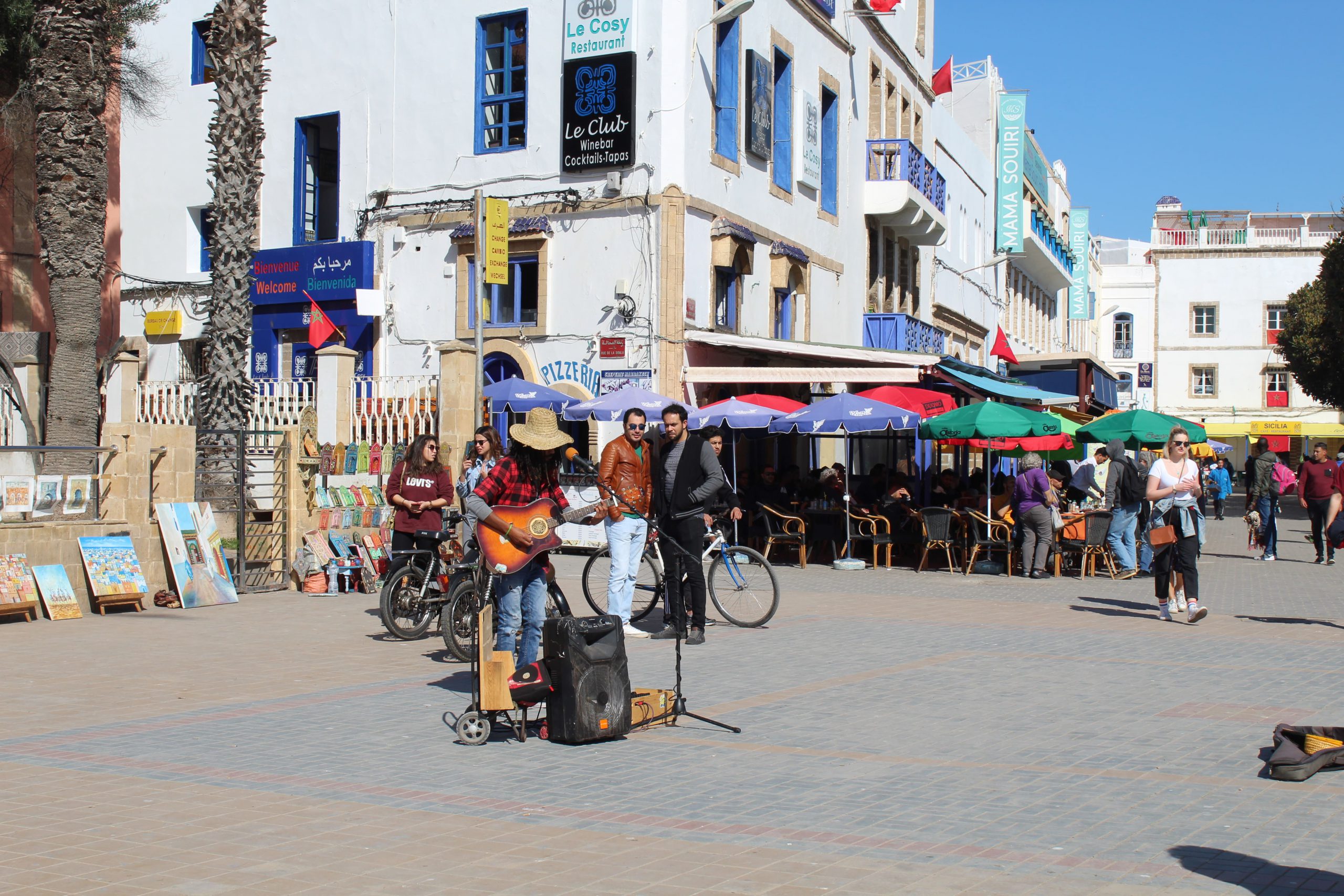 During my stays in Essaouira I tried out multiple good (but also very bad) spots to eat and drink. My first tip is to not eat at the main square as the food is often not very good. However, we did like the freshly prepared crepes there! For fresh fish you can go to one of the stands near the harbour and choose your own fish that you would like to eat, however I did not try this (of course because I am vegetarian) because I have heard of local people that this is mostly a tourist trap. So be careful if you are trying these spots! Besides these tips I have some very nice places to enjoy good food and drinks!
This beautiful restaurant contains of two parts: one for tapas and cocktails and one for a la carte. The interior is extremely colourful and you can tell that its designed by an artist. They offer Moroccan dishes with a twist and also European and Asian dishes, which makes the menu very diverse. Definitely a must try when you are in Essaouira! Tip from my meat eating friends / family: try the chicken with pineapple and caramel sauce. I really like the filled mushrooms!
This restaurant is located near the beach and offers a wide range of fresh fish. As a veggie I really loved the filled eggplant!
This restaurant / bar is located all the way near the end of the beach. The view from here is amazing as this is the spot where all the camels are laying and as the sun sets this will create beautiful silhouettes. With super friendly staff, this place is perfect for a lunch after some surfing or for a drink in the evening to escape the medina for a moment. They offer a variety of lunch and dinner dishes.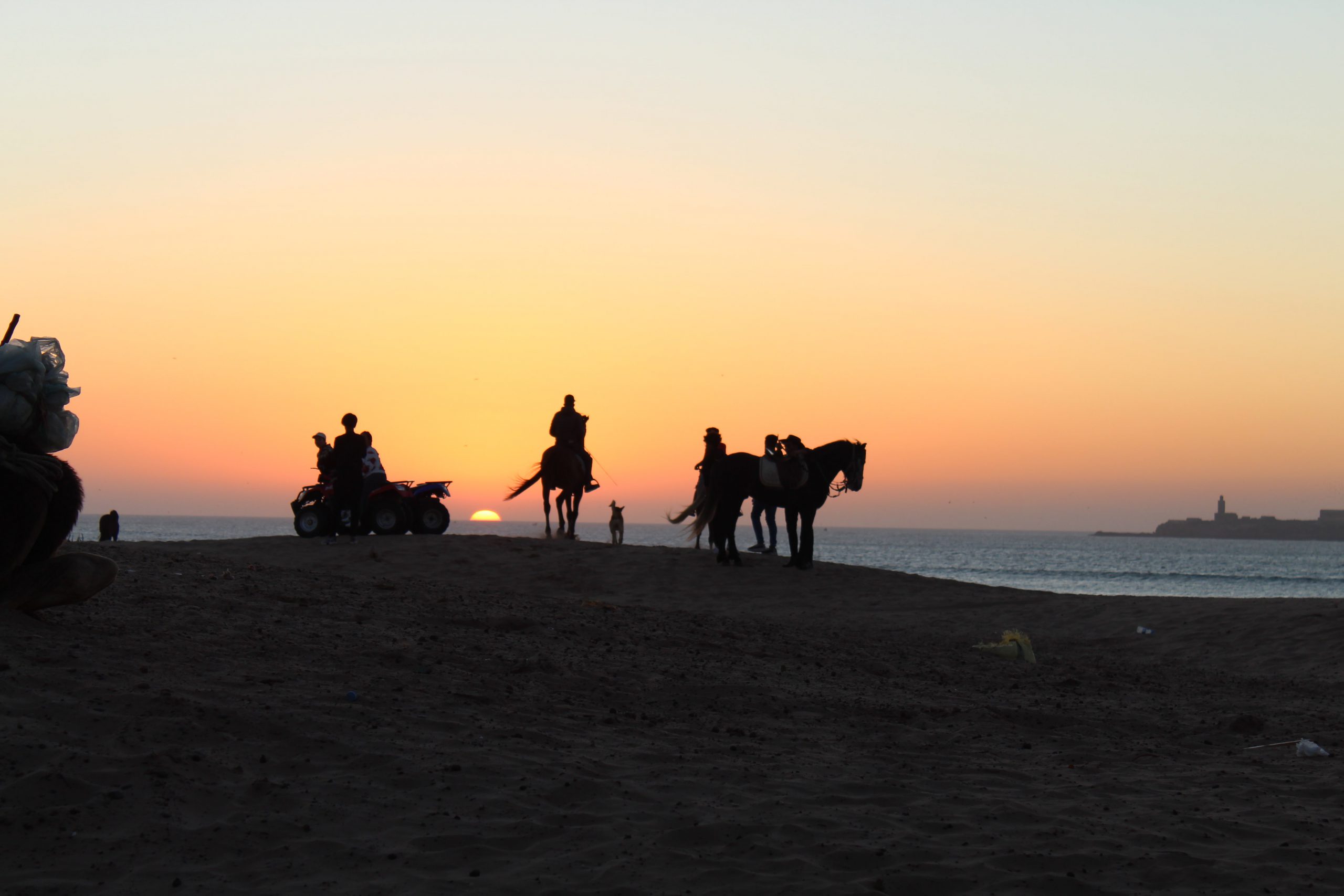 This café is located at the main square on the rooftop of one of the surrounding buildings. It has beach bar vibes and is the perfect spot for a nice drink. In the evenings there will be live music, so during summer nights this is perfect. If you are visiting in winter, make sure to bring a warm coat as temperatures tend to drop in the night!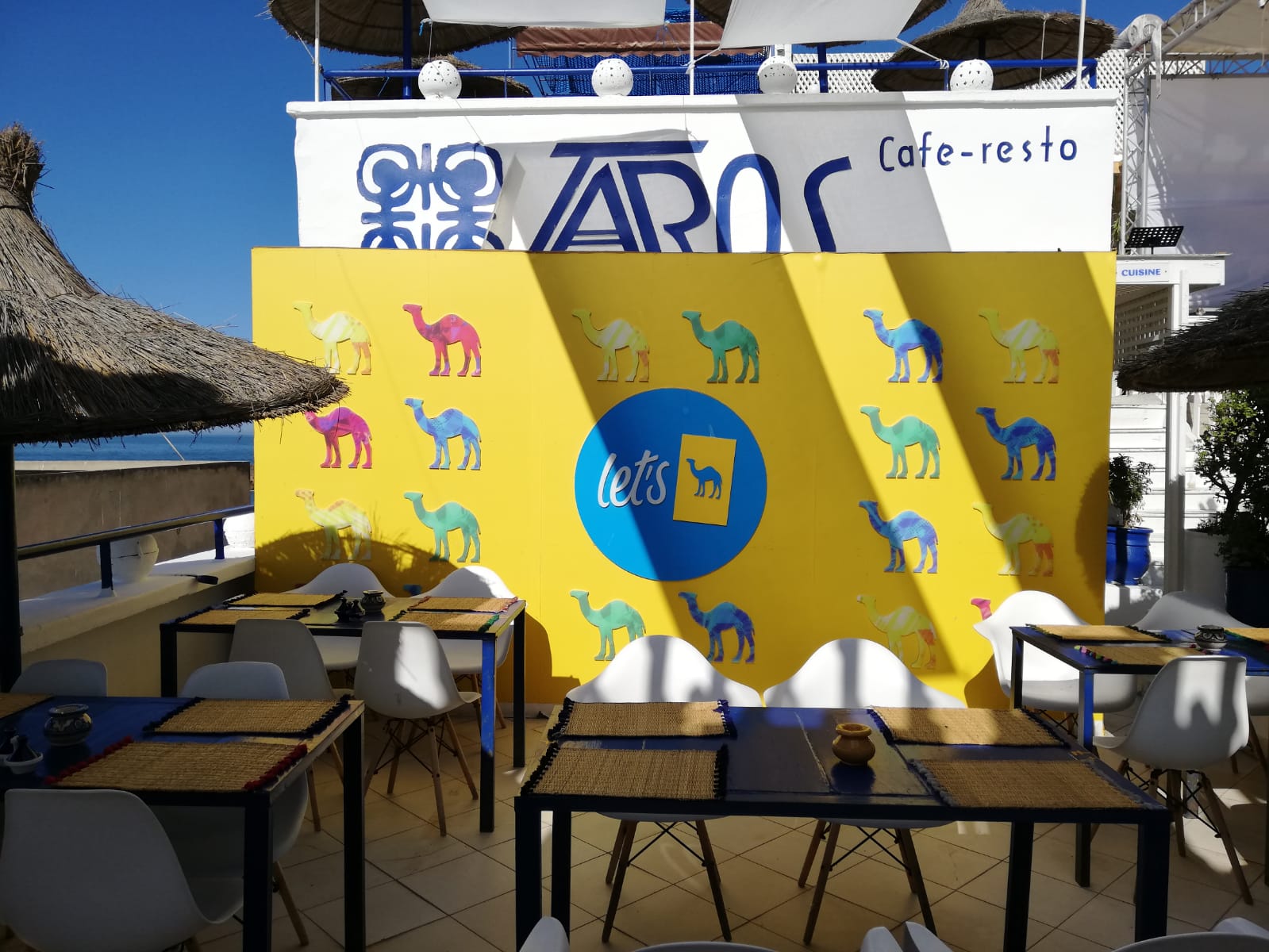 How to get to Essaouira, Morocco?
There are no trains that reach Essaouira, so the only public transport are busses. I prefer the two companies called Supratours and CTM. These busses operate between Marrakech – Essaouira, Agadir – Essaouira and Safi – Essaouira and are quite comfortable. Since some time ago, Supratours introduced the Comfort busses from Marrakech to Essaouira, which offer more (leg) space, WI-FI and a bottle of water. On the other routes there are only normal busses. The bus from Marrakech will take around 3 hours and from Agadir 3.5 and cost around 70 dirhams. Check the websites of the bus companies for the latest schedules and prices! Another form of 'public transport' are the shared taxis, in which you will share the taxi with 6 other people and you share the price to Essaouira. However, as its quite a long drive, it might not be as comfortable to sit with 4 people in the back of the car..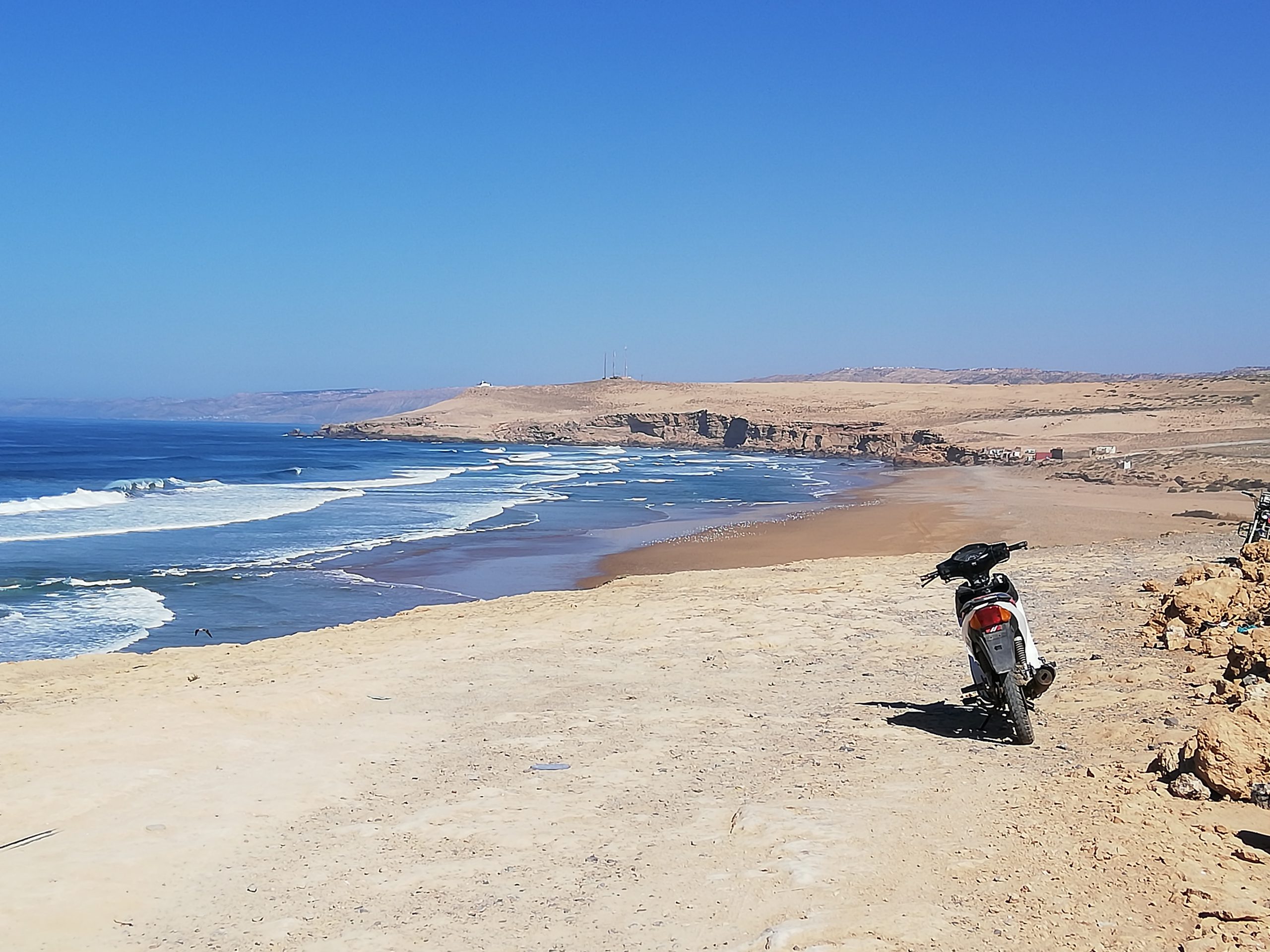 You can also choose to order a private taxi to take you to Essaouira. Advantages of this option is that you can stop at any place where you want to stop for example pictures. We were able to stop when we saw goats climbing in trees! If you want to know how to see this natural phenomenon in an ethical way, make sure to read my blog about responsible travel in Morocco. Disadvantage for this way of transportation of course are the costs. A normal price for a one way drive to Essaouira from e.g. Agadir will cost you between 900 and 1000 dirhams.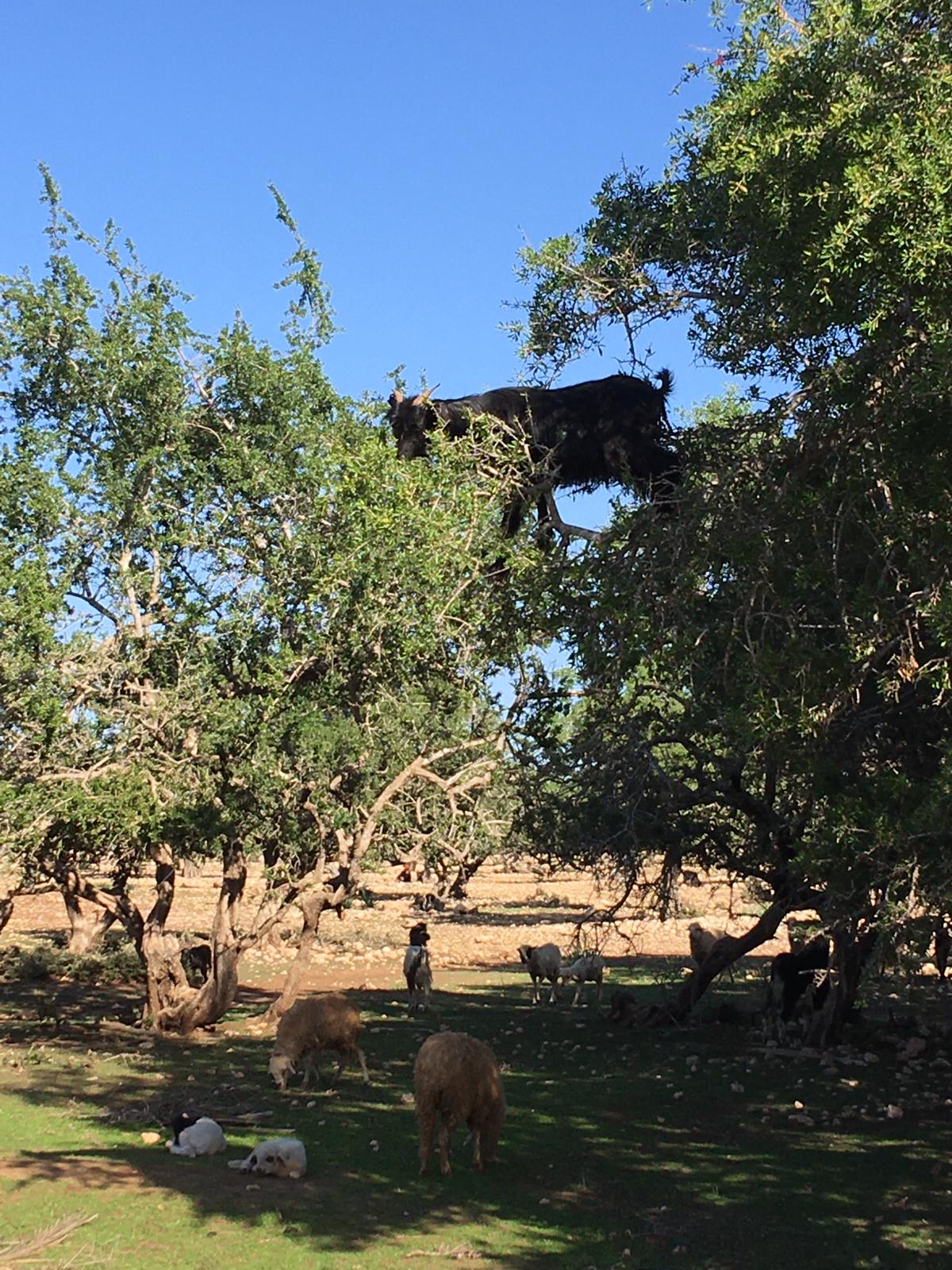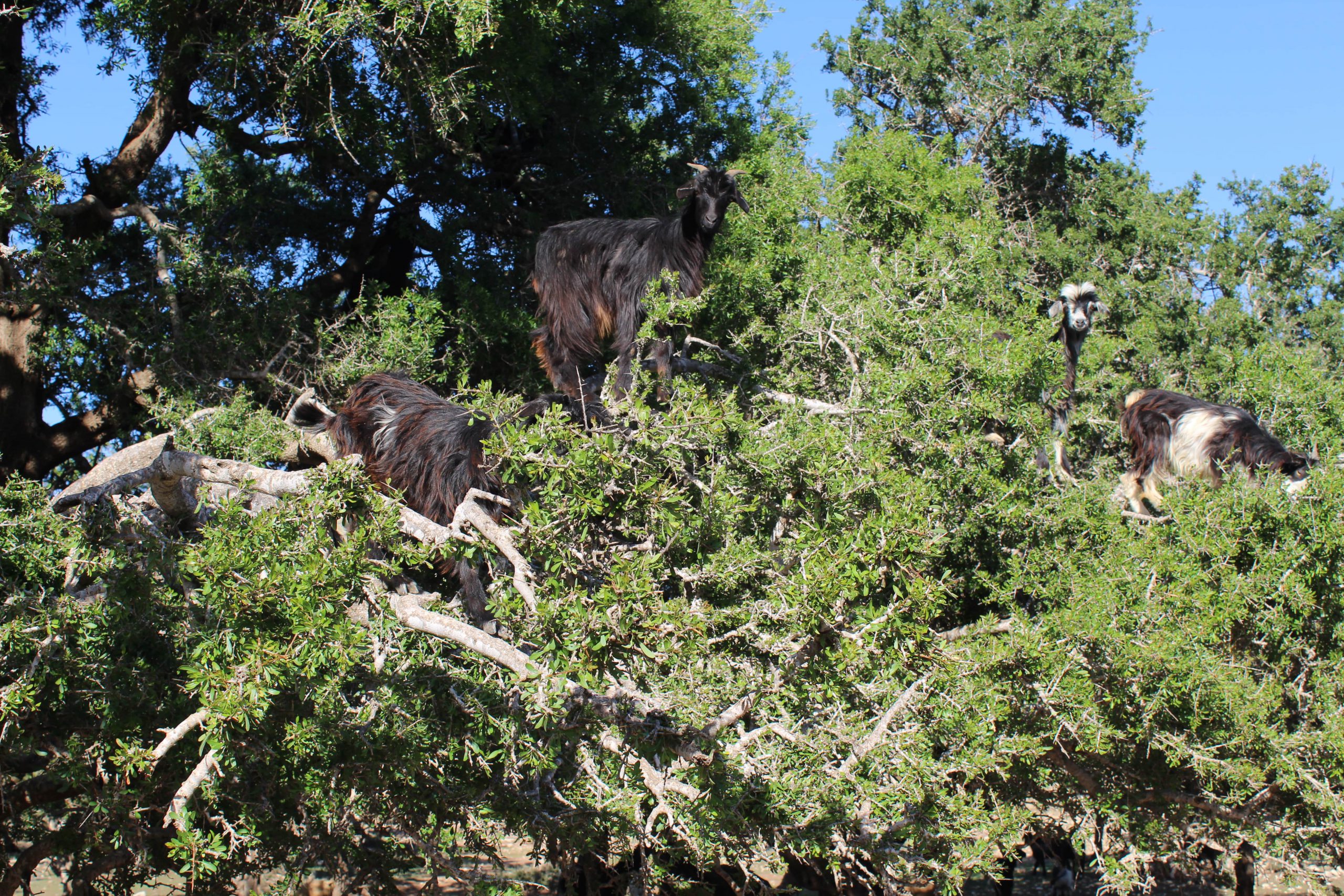 The last option is to drive yourself. If you are a confident driver and like to drive on winding ocean roads it could definitely be something for you! Of course you will have all the freedom to stop at places and enjoy the beautiful views. Just keep in mind that the medina of Essaouira is not accessible for cars, so you should find a parking spot before entering the centre of Essaouira.