Chefchaouen, the Blue Pearl, the Blue City, we probably all heard of this place before, known by its beautiful blue coloured medina. I had the privilege to visit this city in the north of Morocco twice and now I would like to share my tips for a weekend in Chefchaouen!
Discover your inner photographer
First things first: make sure to bring a camera! This city is so crazy beautiful that you will regret it if you do not bring one. Every. Single. Street. Is beautiful in its own way and has a different shade of blue. Everywhere you look you will see picture perfect spots. Add beautiful Arabic writings, doors and colourful fruits and bags full of paint to this and trust me, your camera will be full with Blue Pearl photos. It will be difficult to create ugly pictures in this special place!
While walking around in the blue medina, make sure to pay attention to the beautiful diversity of doors in this city. I know.. I am talking about doors, but come on, look at the pictures.. Do I need to say more?…
Meet the local inhabitants
Now that we are talking about photography anyway, the local (furry) inhabitants of Chefchaouen are also worth meeting and taking pictures of. Morocco as a country has many  many cute cats walking around in the streets, but Chefchaouen is like the cats kingdom as there are so many! I loved to meet all these furry friends and they love to pose for beautiful pictures with different shades of blue in the background!
As beautiful the city is inside the medina, I can also recommend to walk a bit up the hill and leave the medina. From a distance you can have a beautiful view on the city and the mountains. From here you will see blue, but also white coloured houses built against the beautiful Rif mountains. You can choose to go all the way to the Spanish Mosque and watch the sunset from here. I cannot tell you if it is good, as I did not have the chance to do this!
One of the squares that you should not miss while you are in Chefchaouen is Place El Haouta. This cute little square has a blue centrepiece surrounded by little cafes where locals are drinking their daily coffee or Moroccan tea. With the beautiful Rif mountains in the back, this scenic place is worth a stop.
Drink tea at Place Outa El Hamam
Did you know that the northern way of making Moroccan tea is different from how they do it in the south? Where you will most likely get a small pot of tea with the mint inside the pot and a small glass to pour it in in the south of the country, you will get a big glass of tea in the north. Here, the mint will be inside the glass instead of in the pot.
Place Outa El Hamam is the perfect place to try out a glass like this as you will have a nice view on the busiest square of Chefchaouen.
Chefchaouen is home to some nice food stalls, juice stands, pastry stands and some rather hidden street food places. I really loved the fresh orange juice and some cinnamon like cookies. What I also loved was a small window with a man inside preparing some kind of potato dish which was a typical snack from Chefchaouen. Try street food where the locals eat it and I can assure you that you will get a whole new experience, it is definitely worth it!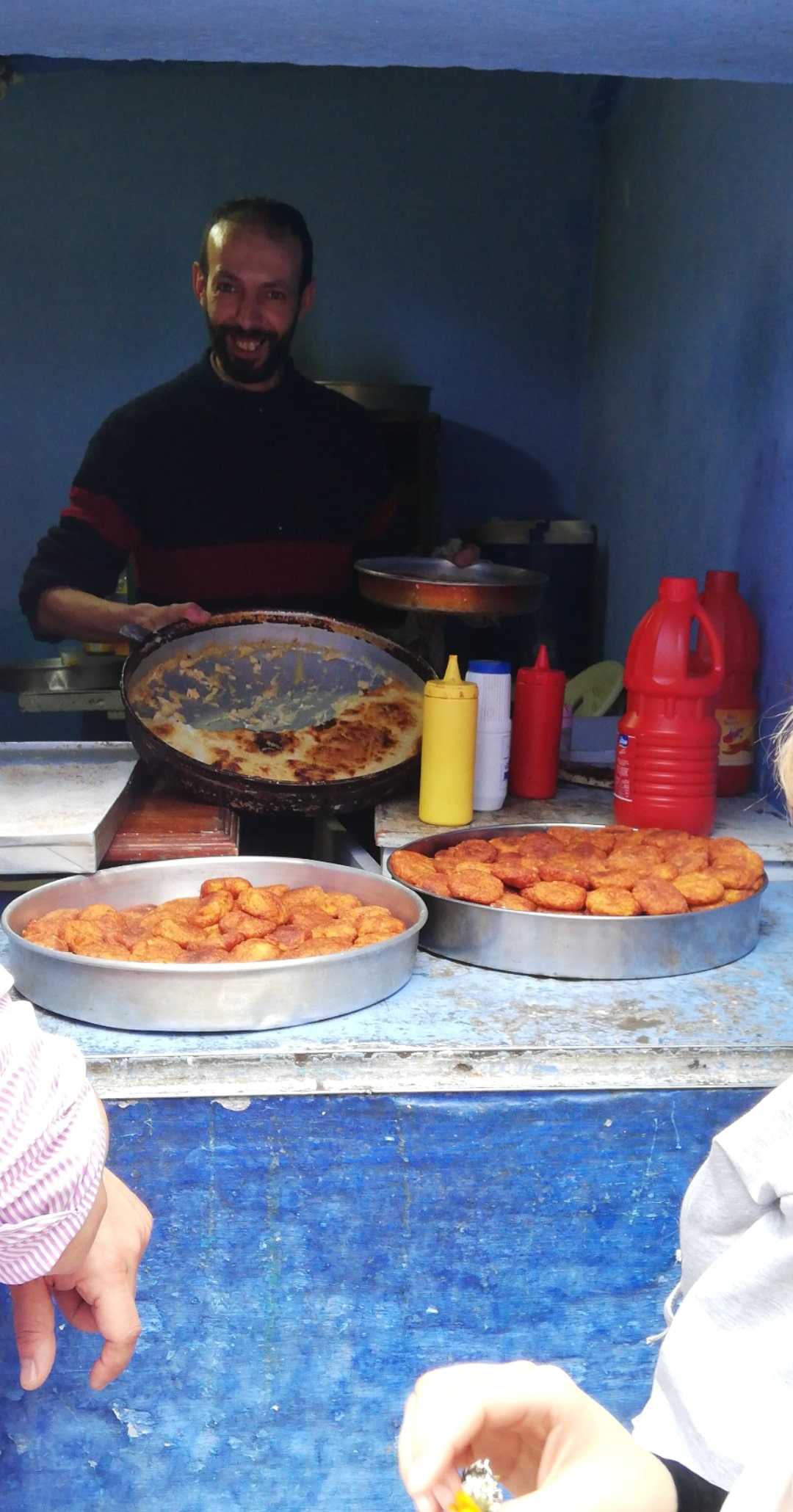 This riad offers a wide selection of Moroccan kitchen and it all tastes so good! Located in the middle of the centre, this restaurant has something for everyone. Even for a veggie like me there were some interesting options. I chose to go for a typical soup from the north called 'Bissara' which is made of a particular kind of beans. It is quite thick and together with saffron, the taste is something I never had before in my life. The second dish I had was a vegetarian pastilla, which I can also highly recommend. Even though pastilla (or bastilla) is not typical from the north, I never had a good opportunity to try one as it normally prepared with chicken, pigeon or seafood.
Drink a smoothie at Café Clock
With a relaxed atmosphere and a beautiful view from the rooftop, Café Clock is a must visit when you are in need of a break. Either choose one of their smoothies, drink a cup of tea or enjoy one of their (veggie & vegan) food options!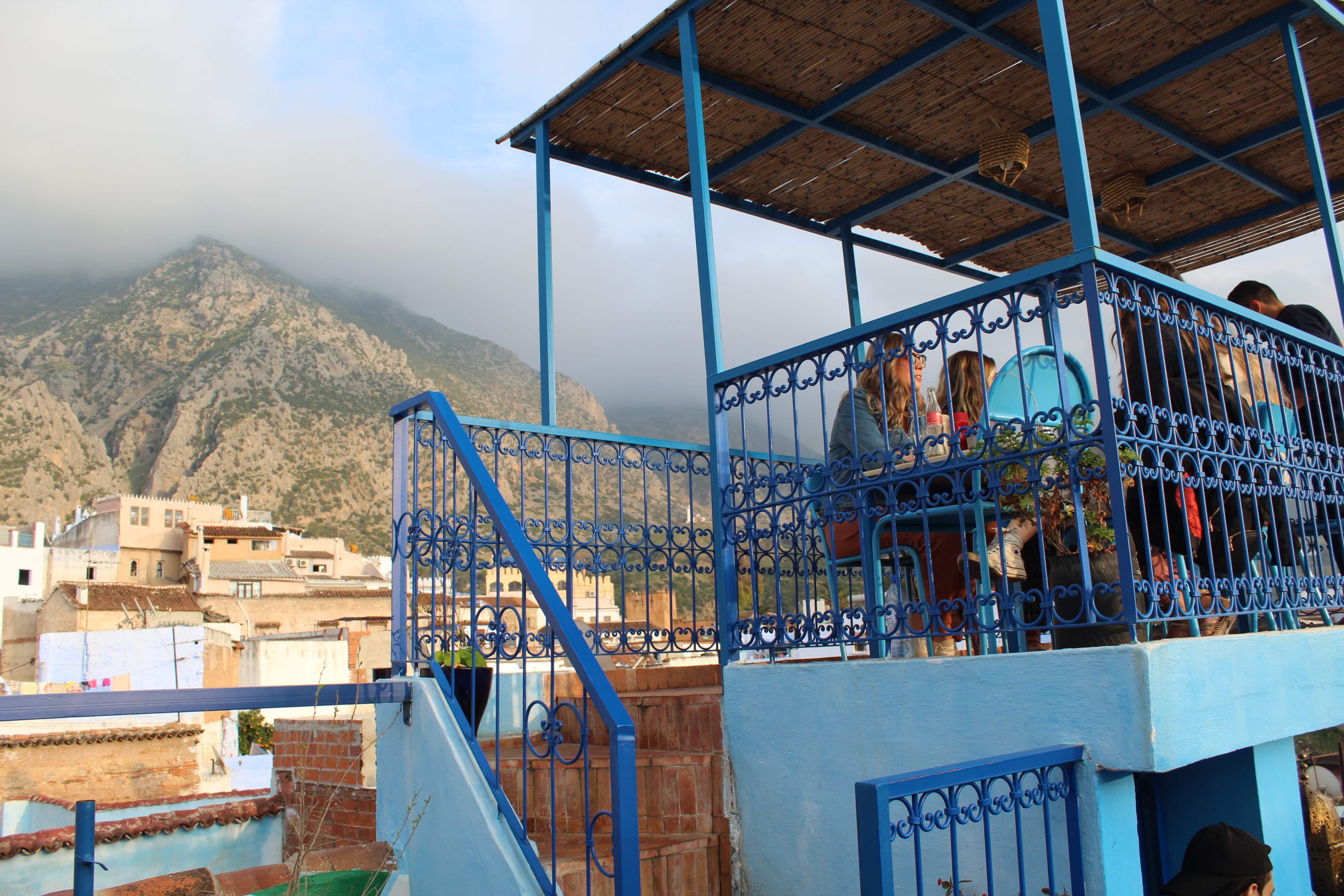 Stay and eat at La Petite Chefchaouen
My last tip for Chefchaouen is to stay at 'La Petite Chefchaouen' and most importantly EAT there. The cook prepared a full Moroccan meal for us with salads, Moroccan spinach, zucchini, soup, tajine and a delicious dessert. I am not exaggerating when I say that this was the best meal I had so far during my stay in Morocco.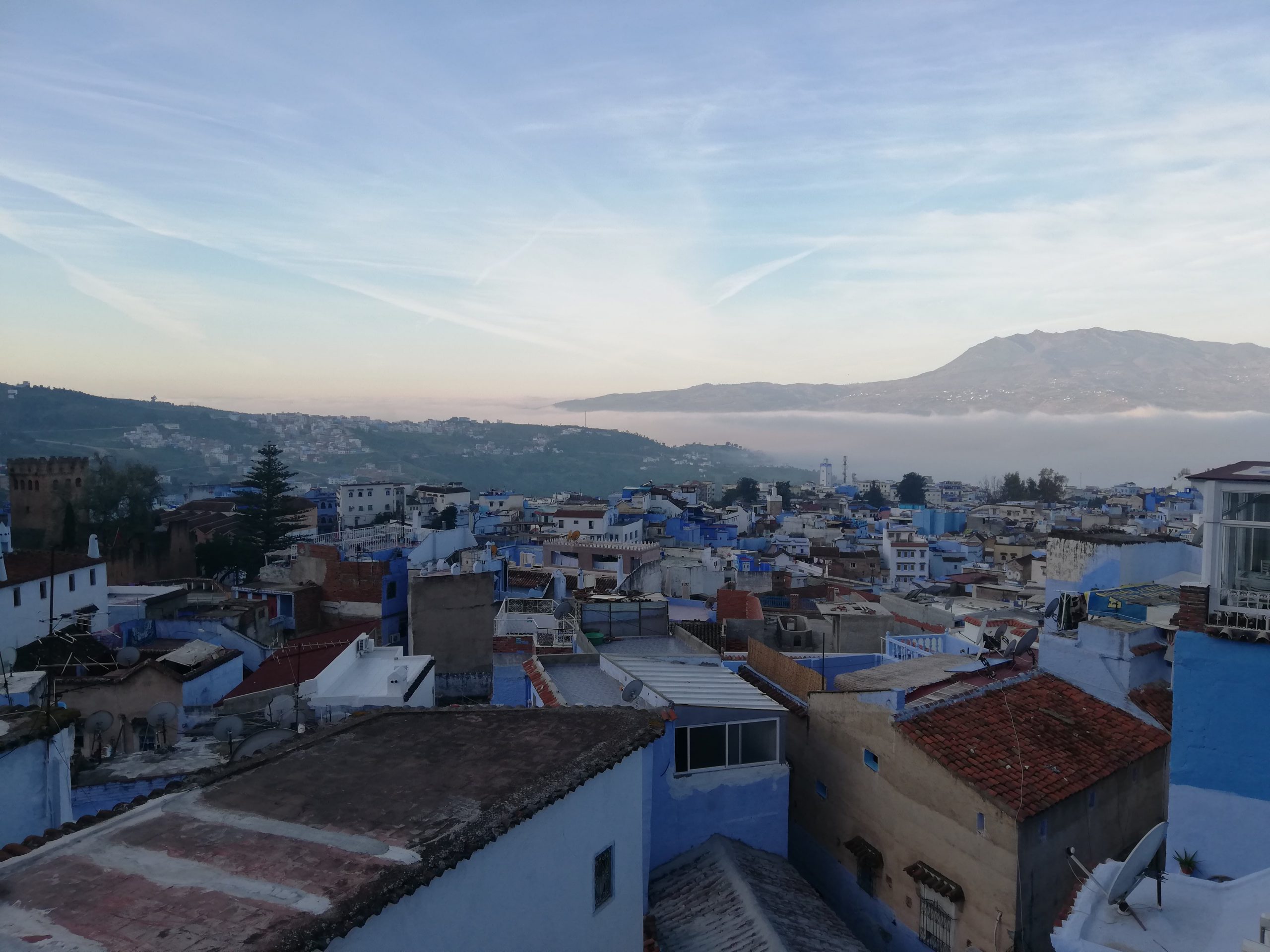 The rooms itself are very modern and beautiful but still have that Moroccan touch. It is located in the middle of the medina and thus has an amazing location. Breakfast is served at the rooftop from where you have a beautiful morning view over the city.
I do have some other tips that I unfortunately not yet have experienced myself. So I cannot share my experience but I still think they are worth mentioning.
This kasbah is located at the main square in the city and even though I did not have time to visit it, I think it is worth a stop!
Hike to the Akchour waterfalls
For those feeling active and in the mood for some nature, the hike to Akchour waterfalls is said to be amazing. With multiple waterfalls along the way and a trail that's not too tough, this hike is definitely recommended!
Watch the sunset from the Spanish Mosque
As I was lucky having beautiful rooftop terraces I never had the urge (and time) to go up to the Spanish Mosque to watch the sunset. But from what I have been told, this should be the best spot to experience a magical sundown!