Surfer or no surfer, Taghazout is definitely worth a visit. I went by public bus to this small fishers village, which is now a relaxed surfing heaven. Taghazout has some of the best surf spots in Morocco and offers a lot of classes to beginners and more advanced surfers. I like to surf, but this time I did not go to surf. I took my camera, travel journal and swimsuit and was ready to enjoy a nice and relaxed weekend day.
To go to Taghazout, which is located around 20 kilometres up North from Agadir, you can take bus 32 from Wilaya – Jardin Belvere and it will cost you 5,5 dirhams. This bus will run every 15 minutes, but be prepared that the bus can run late. After half an hour you will arrive in Taghazout, but make sure to pay attention because the bus driver will not tell you where you are.
I went without a plan, so I was kind of lost in the beginning. However, when you start walking you will soon see that it consists of one big street with shops and restaurants and when you turn left into the small streets and just keep walking, you will end up at the beach. And that is where we want to be! If you want to go surfing, there are tons of surf shops and schools to choose from. Either take classes or rent your equipment and start playing in the sea yourself! As I worked all week and spend the whole Saturday walking in the streets of Agadir, I chose to do the surfing some other time.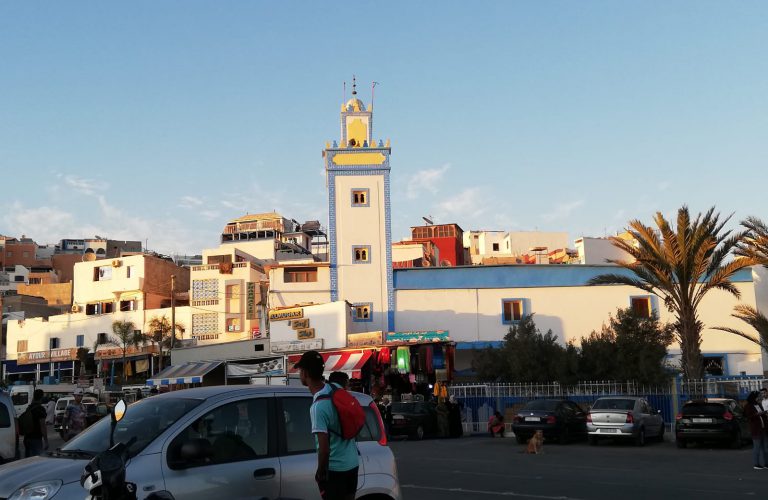 Where the bus stops – Taghazout
Taghazout without surfing?
Also without surfing Taghazout is great fun! Drink a smoothie and eat some healthy food at World of Waves or eat a nice pizza, pasta or tajine at Windy Bay. Both places have a very nice atmosphere, with nice staff and a great view over the beach and the Atlantic ocean. Use one of the stairs to get to the beach and stroll around through all the little boats that are laying on the beach. I used this opportunity to take some pictures of this picturesque spot.
Now that you are on the beach already, you can go enjoy the sea and take a nice swim. At first I did not feel very comfortable with wearing a bikini, but then I saw multiple tourists doing it so it was okay. The local people here are very friendly and they will not stare at you. They are minding their own business and playing some sports on the beach.
Anchor Point & Surf Berbere café
After some relaxation at the beach I was ready for the second part of my day: walking towards Anchor Point. This should be the spot to watch the professional surfers, instead I was walking in the heat and I did not see anything spectacular. Maybe it was because of the time of the day and the little amount of wind, but I was a bit disappointed by that. After giving water to some cute kittens there, I walked back to the centre of the village (a 20 minute walk). I decided that I did not want to end my day like this, so I went back to the cafes at the water and sat down at the Surf Berbere café for a nice mint tea. This spot is just like a dream! Sitting on a Berber cushion with a low table and looking at the water with the sun getting lower is the perfect way to end your day in Taghazout. But be aware: practicing your Moroccan tea pouring skills here is maybe not the best idea as the wind might blow your tea away!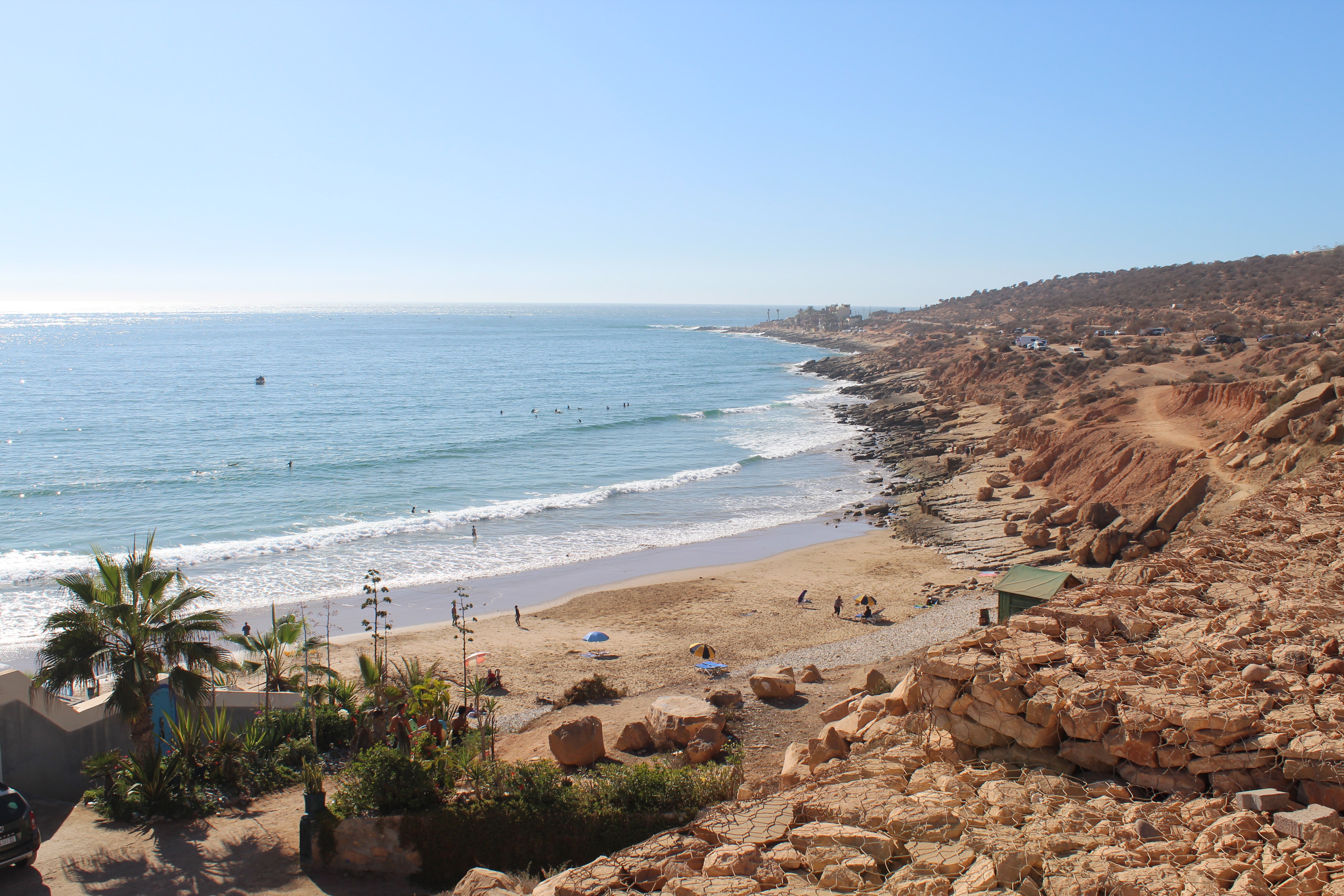 The view during the walk to Anchor Point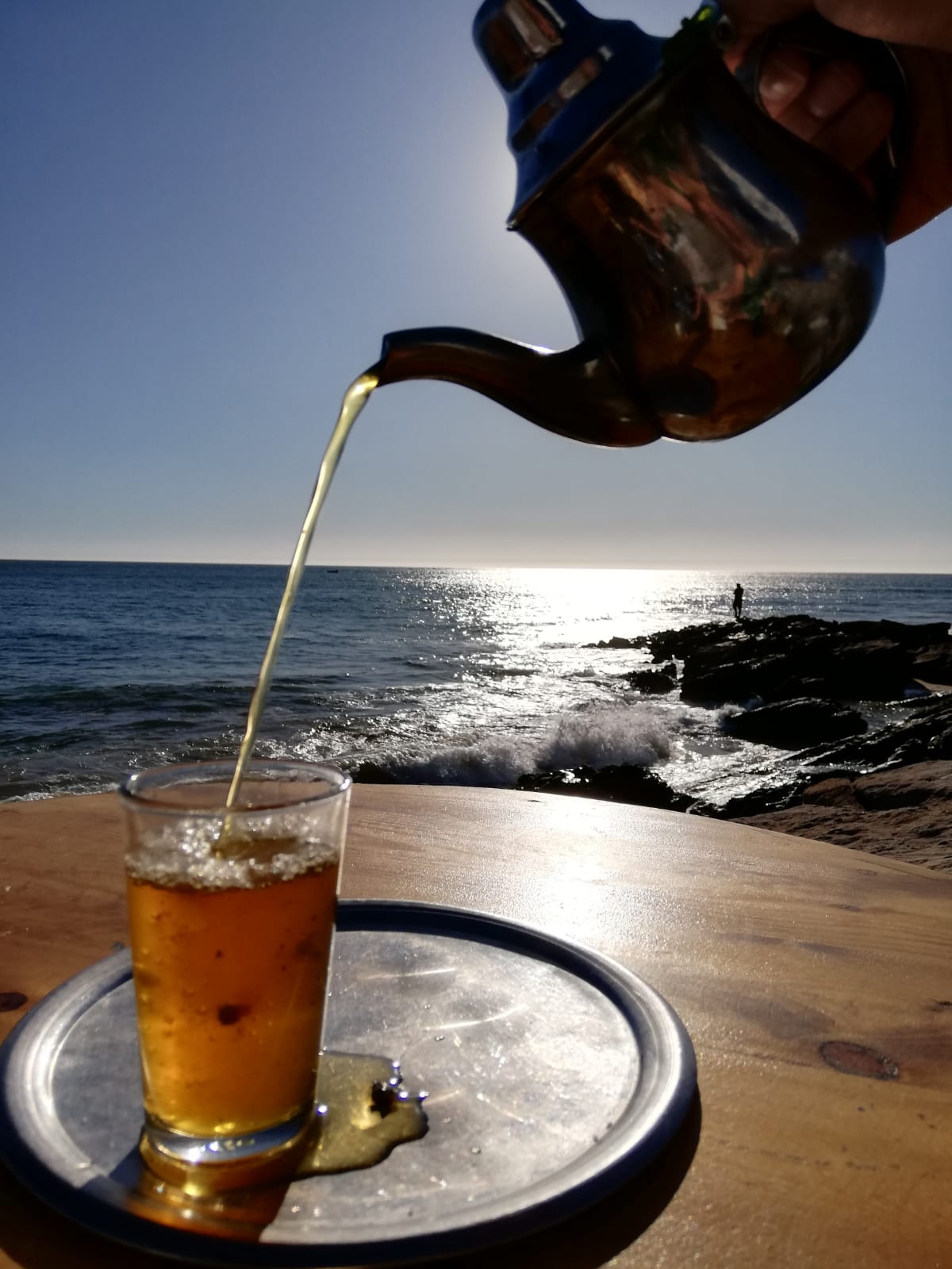 Moroccan mint tea at Surf Berbere café
Around 6 pm I decided it was time for me to get back to the busy city of Agadir, so I walked back to the same spot where the bus dropped me off. The bus was (according to Google Maps) supposed to come around 6.20 pm but it did not show up. Something past 7 pm the bus was finally there and as I was getting up to go to the bus, I got passed by a lot of locals that tried to get in the bus before everyone else. I ended up standing in the bus again even though it arrived empty.. So be prepared to 'fight' for your spot in the bus! On the way back, the bus cost me 7.5 dirhams.
I loved Taghazout and I will definitely go back to enjoy the relaxed atmosphere and maybe do some surfing!