In this blog I am going to write about my experience in Morocco by listing five destinations that impressed me in various ways. These five destinations are not the most common top 5 of Morocco when you read other blogs, however I chose those that surprised me the most. It shows the 5 destinations and shares some ideas on how these places can develop in a more sustainable or responsible way and provides some ideas on how you as a traveller could act more responsible during your journey to and at these places.
Fez is what I would like to call authentic Morocco. With its little streets dazzling through the medina you feel like your in a maze. It is easy to get lost in this Imperial city but that is exactly what you should do here. The Fez medina shows you all kinds of local industry like the leather production. Here, the leather still gets produced as in the early days and as a tourist you can get to see it yourself. Of course, the locals will try to offer you tours but you can also perfectly do it yourself. However, when you want to get a nice view of the tanneries you will have to tip a person to go to a viewpoint, they will give you some mint for your nose because of the smell and you can stay as long as you want.
In the medina itself you can also find leather shops where you can buy handmade products or look for the building that once was the first university ever in the world. Also, I would like to recommend you to go to an old Coran school and enjoy the details of these beautiful buildings. If you feel hot and feel like a cold drink and some non-Moroccan food have a look at my restaurant tips in Morocco!
My experience with Fez was not only amazing because of the beauty and authenticity of this city, but also because of the people who I met there. Via a Mexican girl working at a small restaurant I got in contact with a woman called Najat. This Moroccan woman grew up in Morocco and also lived in Mexico for a while. With her passion for food she created the restaurant called 'Nur' which serves real Moroccan dishes but creates a whole experience around it. With her success she tries to make a difference for the women of Morocco. By showing them how to stand up for themselves she tries to improve the rights of women in this culture. Her success even brought Gordon Ramsey to Morocco for an episode of 'Unchartered' where he cooks authentic dishes with Najat. I think Najat is an amazing and strong woman and her story must be heard. If you want to know more about her story, follow her on her social media: Instagram: Najatkaanache_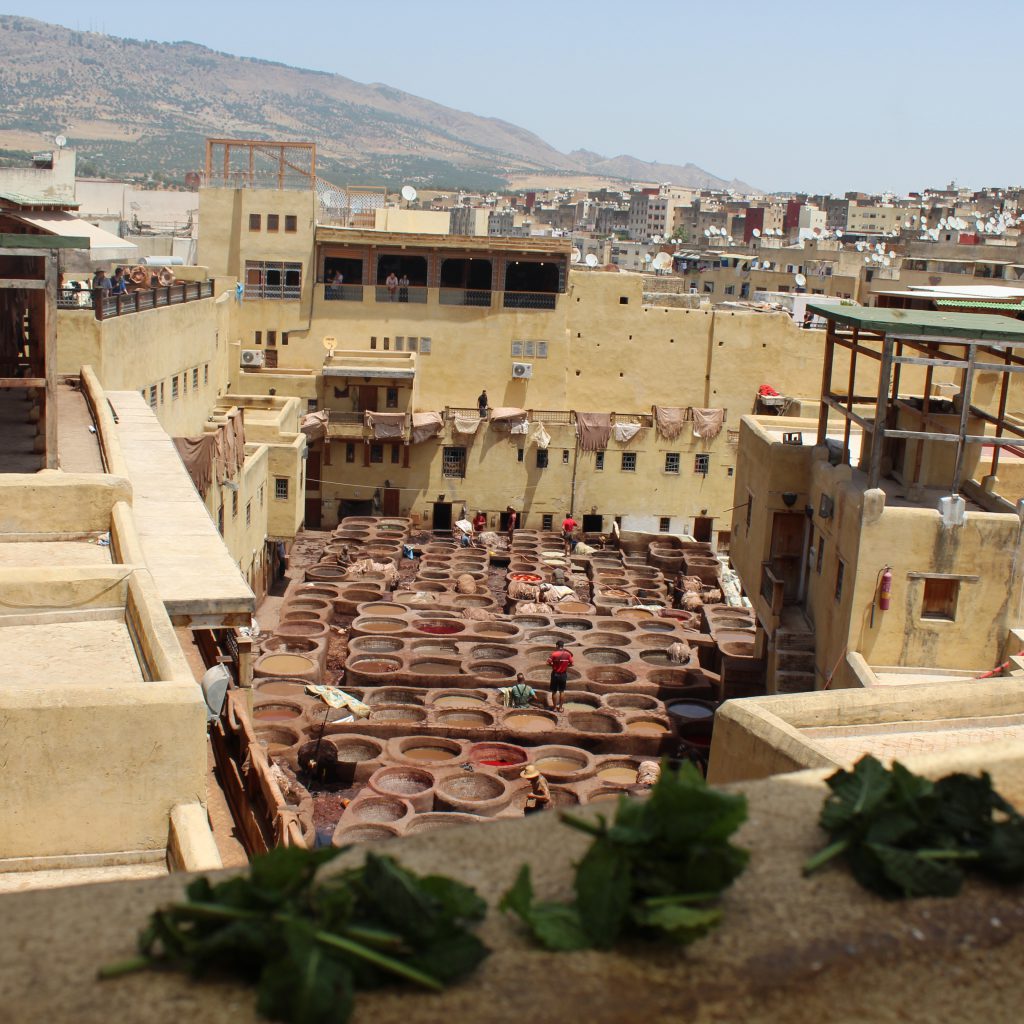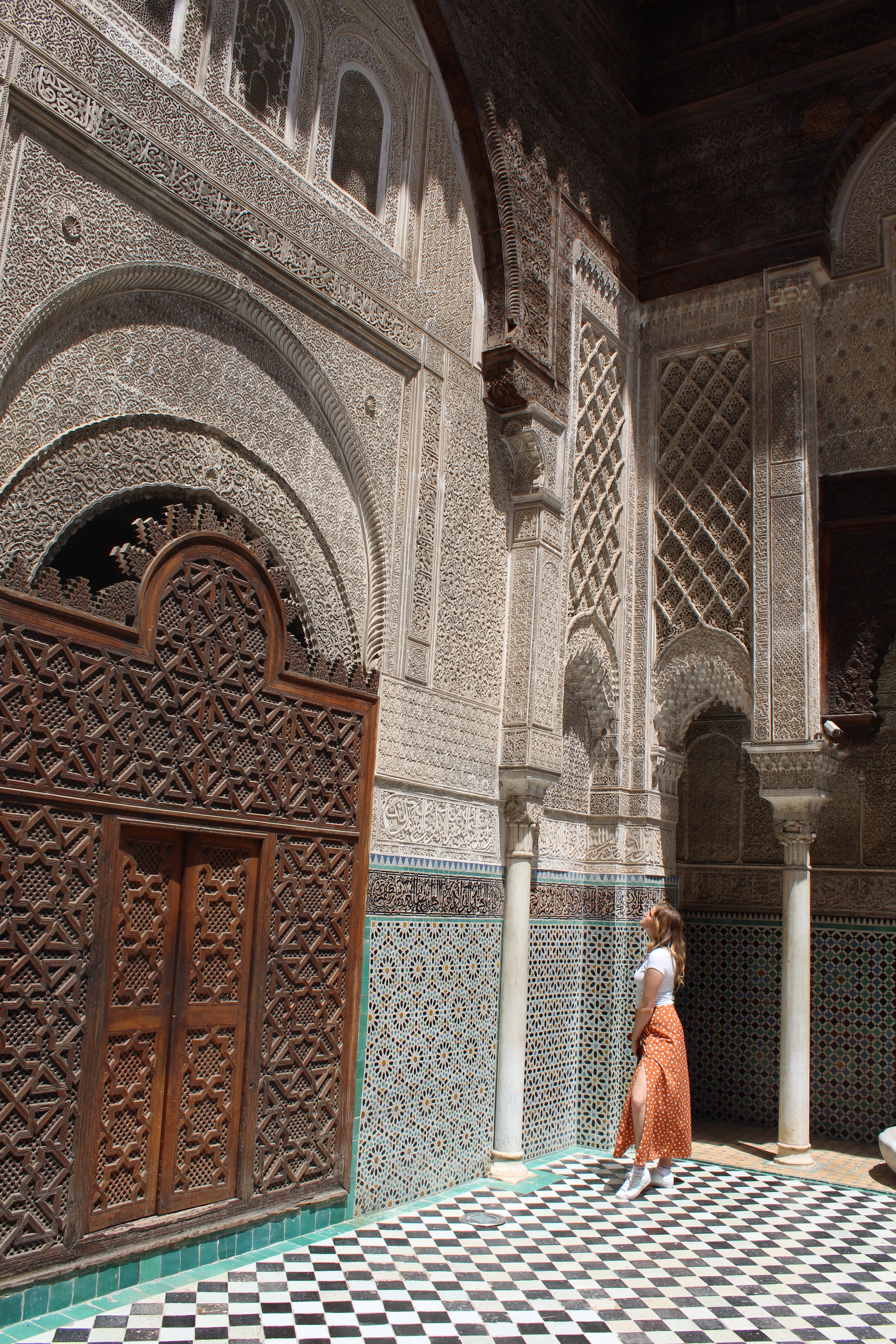 This little fishing village definitely earns its spot in my top-5 list. From the moment we arrived here I loved the medina with its wider streets. Most of the medinas in Morocco have very narrow streets where you can get easily lost. Essaouira is much easier to walk around and the medina itself is also not very big. 
Still this village is worth a stop because of its location at the sea. At the port you can experience fish trade as you might have never seen before: fresh fish laying on the ground with people and cats walking almost through them. The fish gets sold and bought by the local people and are prepared at the little restaurants in the city. I am not sure if you can really call it 'fresh' as the fish are laying in the open air without any protection or ice to cool them, but hey.. we did not get sick so do not worry too much. If your nose is not too sensitive to unpleasant smells it is worth it to walk around and experience the fish trade of the locals, with cats and birds waiting for their turn to grab some fresh fish.
Not only Essaouira is worth a visit for its authentic trade, it is also famous by surfers for its great waves. So it is also not weird that Essaouira is called 'the Windy City'. Wave surfers and kite surfers get together at the best spot to catch a wave while being watched by the multiple dromedaries that are laying at the beach waiting for another tourist to ride them. Here I would like to say: catch a wave, but not a ride.. For only a small amount of money you can get a board and a suit for a few hours and you can enjoy the nice waters of Essaouira.
The last aspect I would like to cover of Essaouira are the popular 'climbing goats'. These goats tend to climb argan trees to eat the nuts of the tree and this is the only place in the world where you can see this phenomenon. However, such an unique phenomenon is also a way of making easy money by, for example, providing goat tours. Busses from Marrakech or Essaouira take tourists just outside Essaouira to see these goats climbing the trees. What these tourists often do not know is that the goats used for tourism are often tied to the trees and forced to be in the tree. There is nothing authentic about this anymore and it is pure animal torture. So if you do not want to be part of this animal abuse, I would recommend you to take a public bus to Essaouira and keep your eyes open to catch a glimpse of them. But as this is often only in the early mornings the best way to see them is going by car yourself and see if you can find shepherd with his goats and offer him a small tip to take a photo.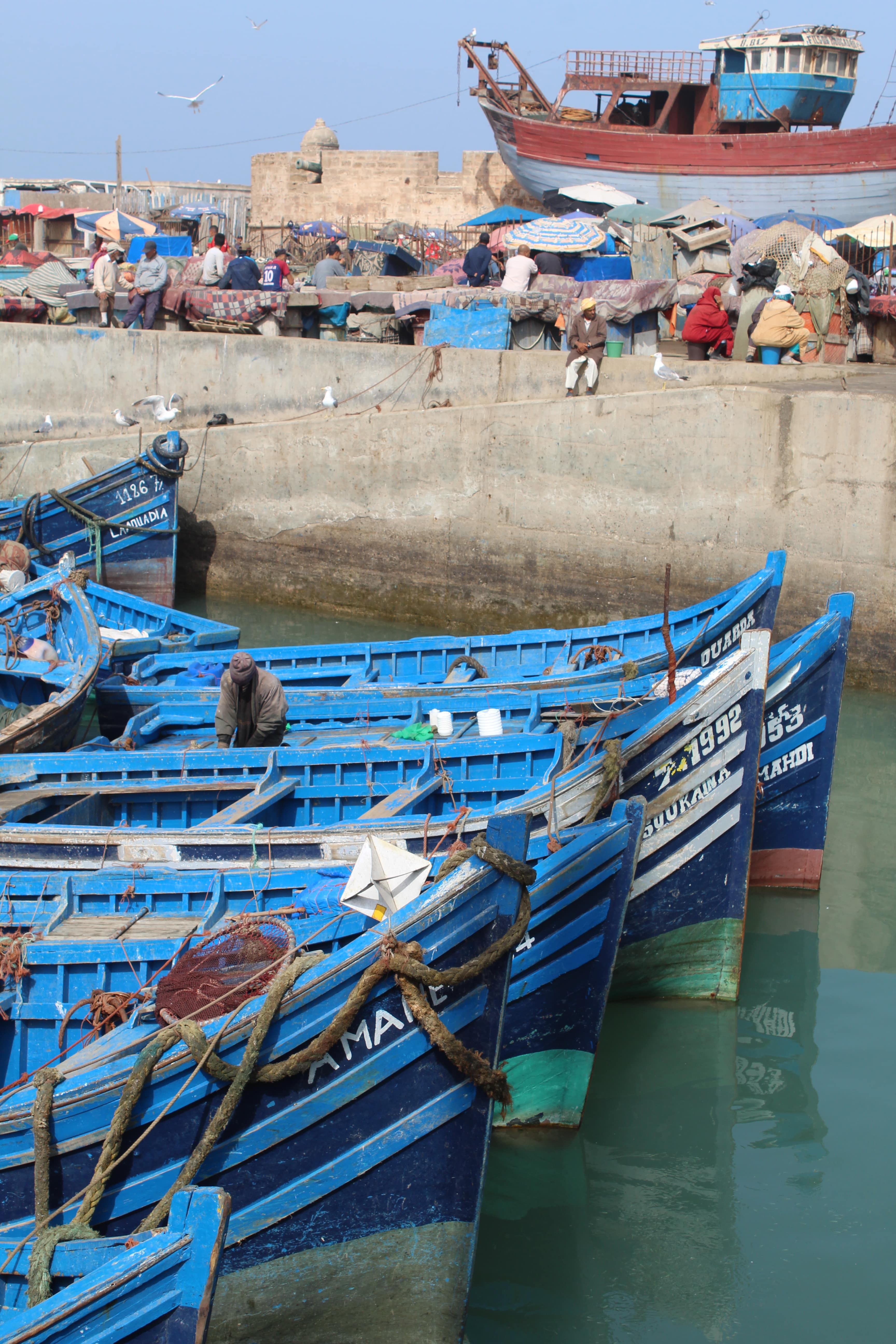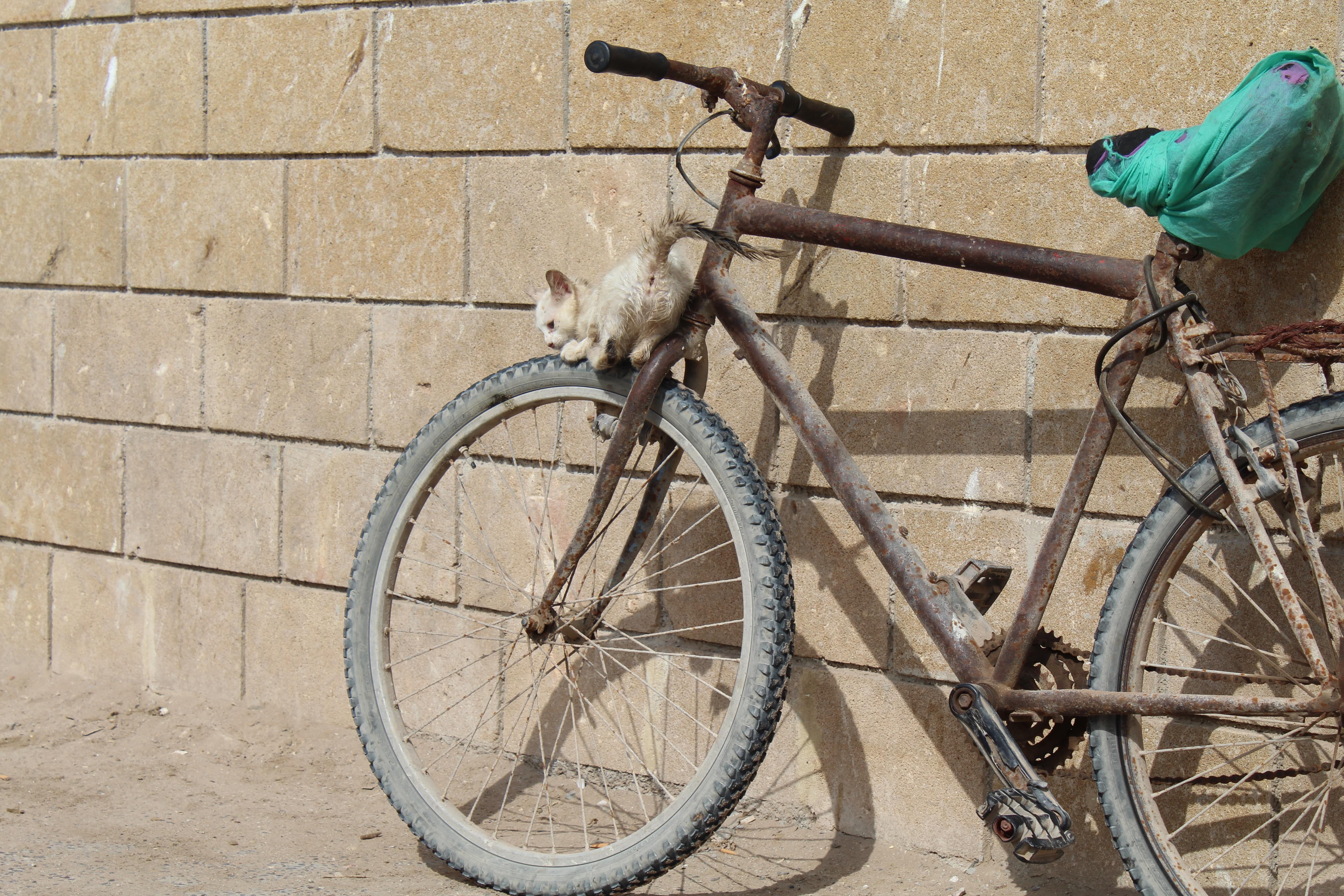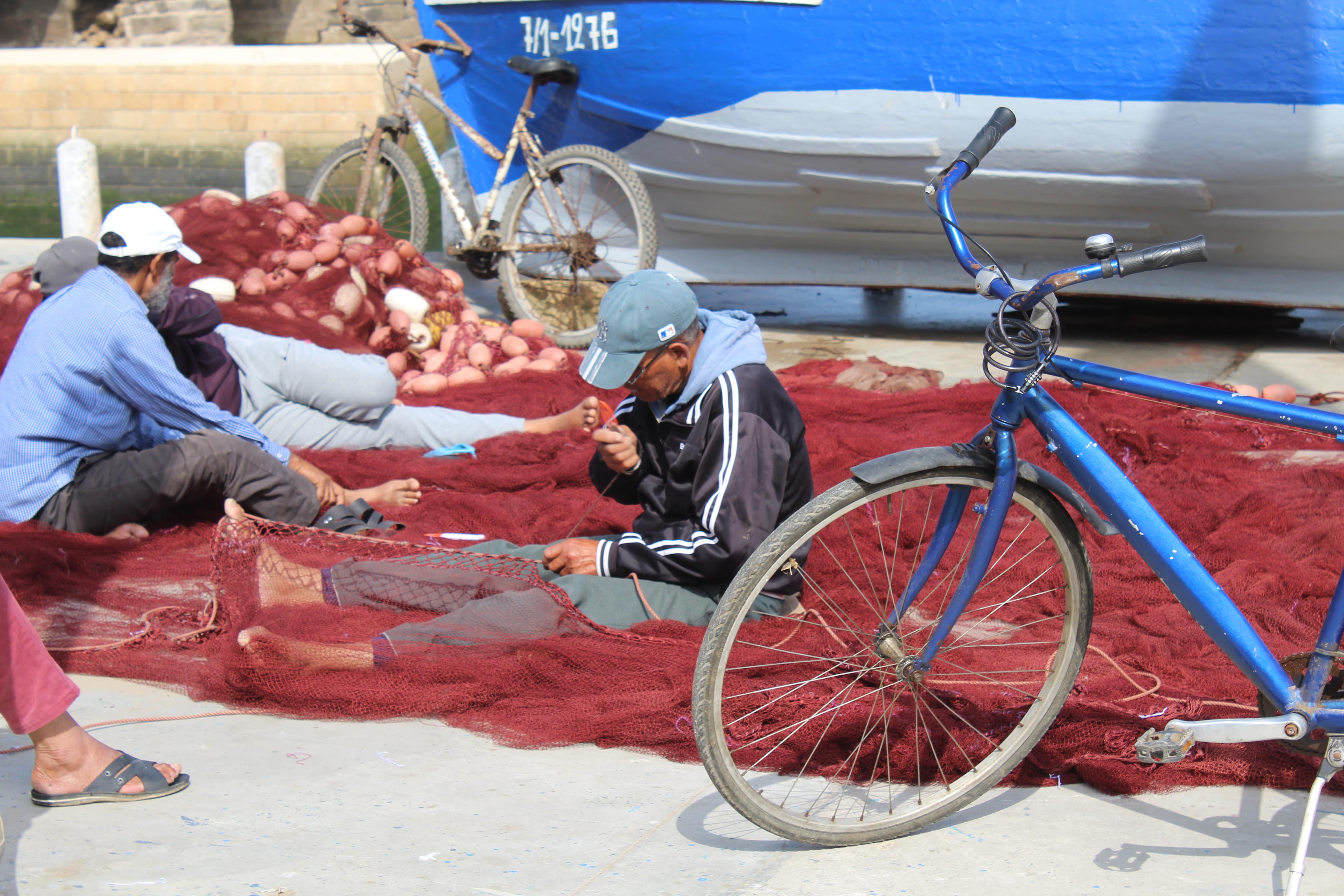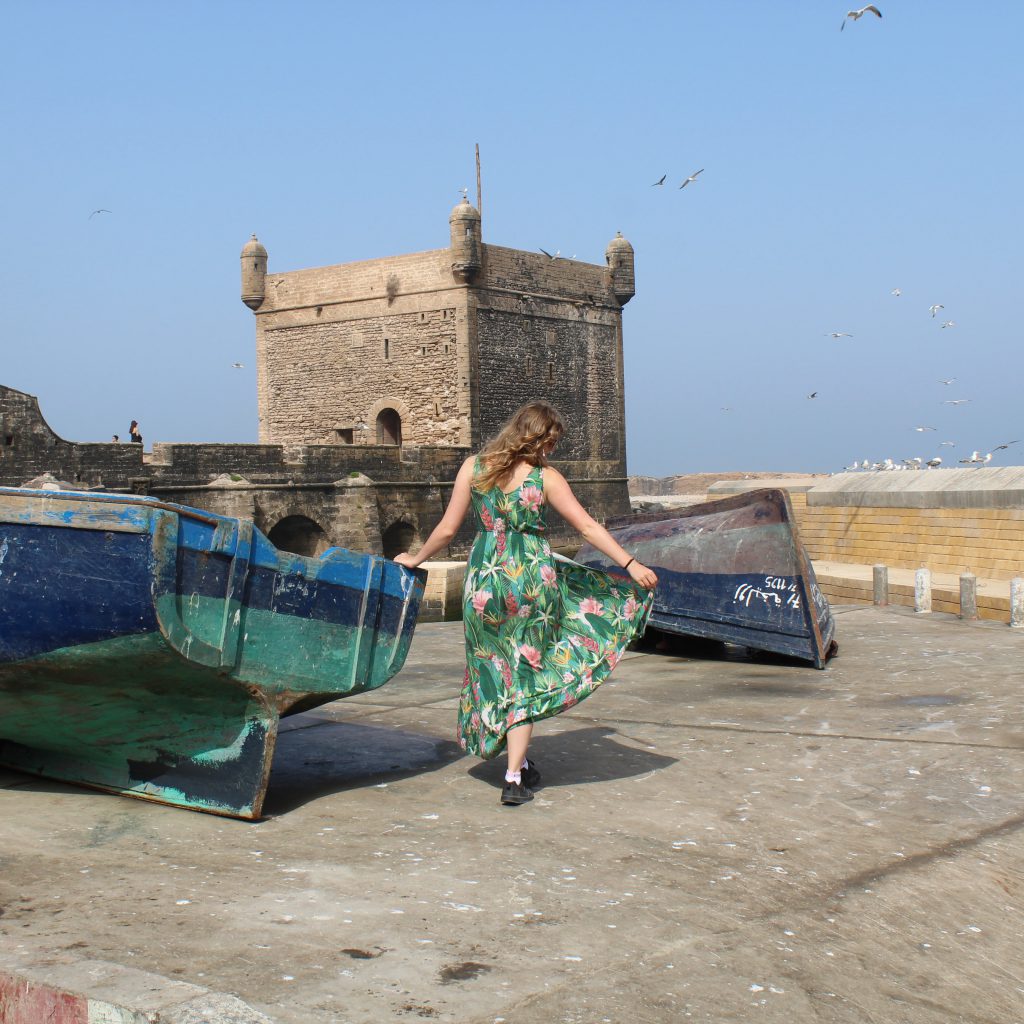 Maybe it is weird that this city is in my top 5 as the city itself is not very spectacular. However, if you love architecture as much as I do, you would understand my decision. Casablanca is home to the biggest mosque of Africa called the Hassan II mosque. This mosque is the only reason why I would recommend someone to go to Casablanca. However, the magnificence of this huge building should not be underestimated. The details in the architecture are like a 1001 nights story. This is also the only mosque in Morocco where non-Muslims are allowed in and this is why I would totally recommend taking a tour to go inside. A guide will tell you some nice facts about the mosque and show you the interior.
Standing outside, looking at the mosque I could stand there for ages. The whole building amazed me with its colours, heights and grandeur. But the mosque itself was not the only experience for me, around sunset the square surrounding the mosque gets filled with Moroccan families enjoying the evening. Mothers with children, friends and whole families get together at the square for a picnic, a game or even a swim in the sea. I loved all the people enjoying their free evening surrounding this holy building, but I would also like to share a more negative side of it. As I was walking alongside the coast and looked at the families enjoying the sea, I smelled a very unpleasant odor coming from all the garbage that was laying at the 'beach' and in the sea. All the picnic items that were brought by the people were left there and no one seemed to care. This is why the Hassan II mosque to me was like "The great mosque surrounded by garbage." In my opinion it is such a waste to let a beautiful place like this get polluted by the laziness and ignorance of people. It can be so easy to just take home your trash..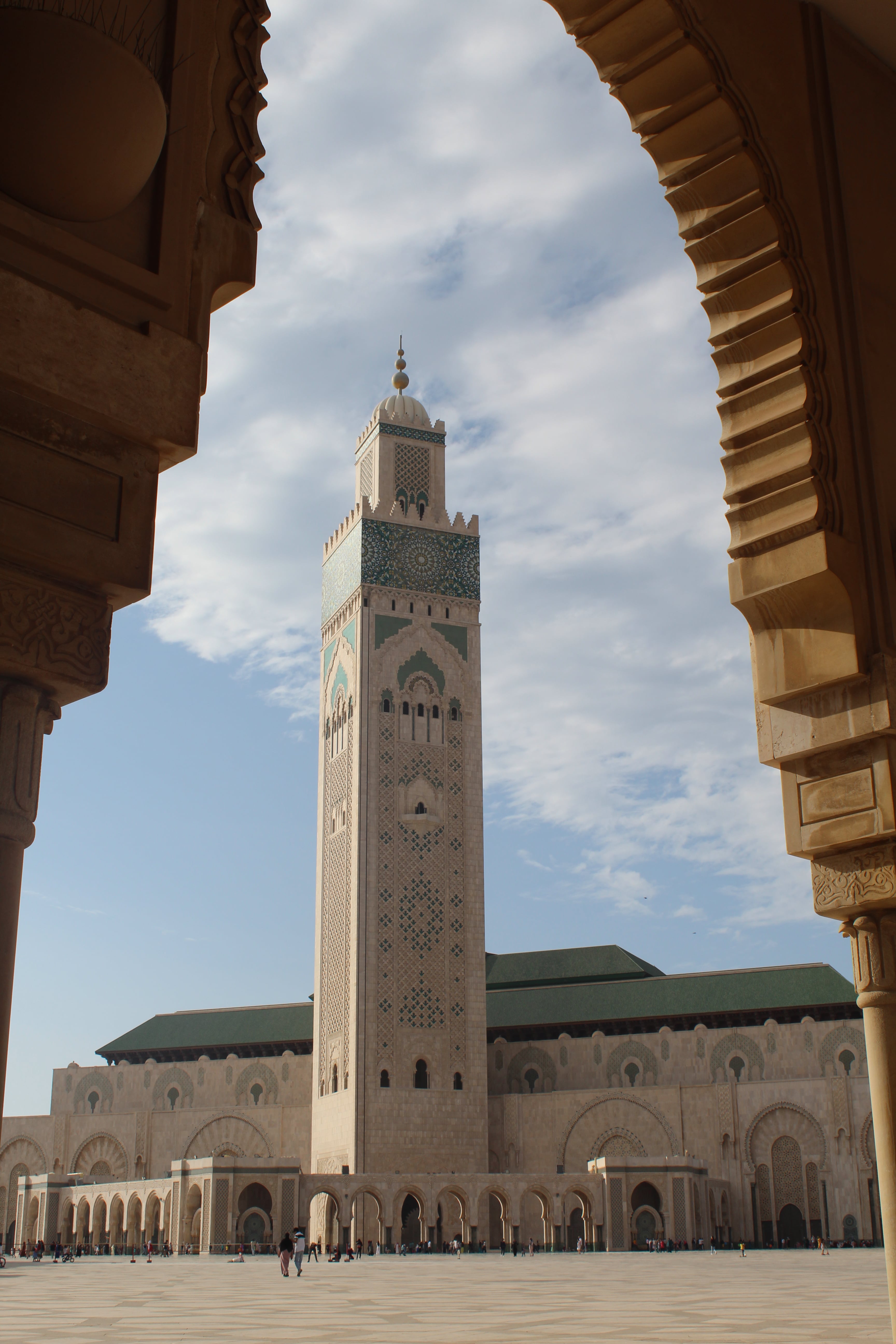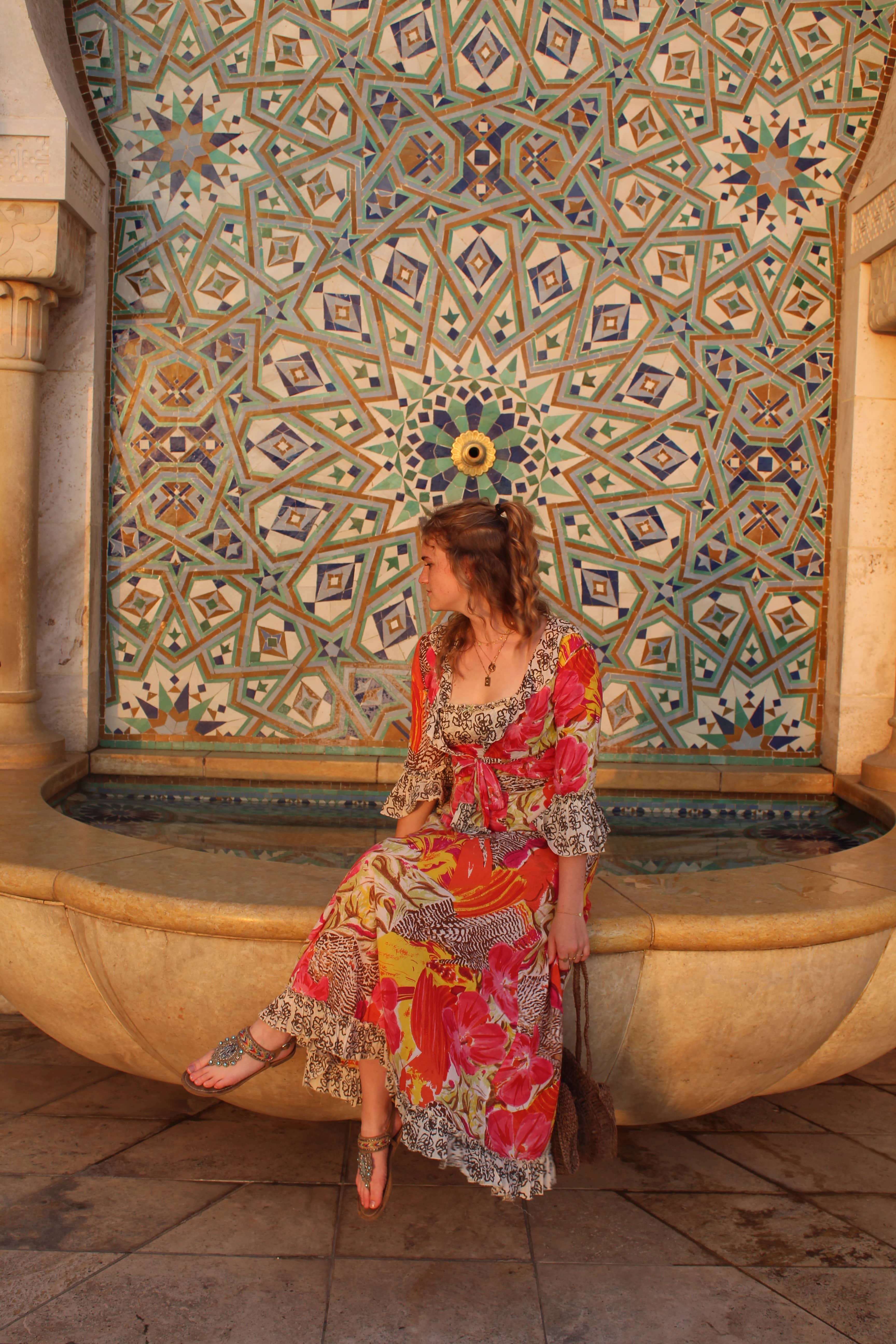 The fourth destination is one to many more familiar by the name of the 'Blue Pearl' or 'Blue City'. These nicknames are perfect for this little town as the whole medina is covered in blue. Chefchaouen is located in the middle of the Rif mountains in the North of Morocco, which creates a magical scenery with the blue contrasting the green and brown of the mountains.
However, because of the huge aesthetical value of this city, a lot of tourists are attracted to go here. So do not think you will be alone wandering the little streets as people from all over the world come to experience the magic of the blue medina. Even though this place is a popular tourist spot, it is not as easy to reach as other destinations. There is no airport or train station nearby so the quickest option to get to Chefchaouen is by bus or car from either Fez, Tangier or Rabat. Of course as a supporter of sustainability I would always recommend to take the bus. This ride from, for instance, Fez takes around 4 hours and shows some nice scenery of the mountains. Make sure to book your ticket at the local office a day before to be sure of a seat.
Chefchaouen is very little and for sightseeing you will only need a day. You can choose to stay longer and experience everything at a lower pace. There are also some nice hiking trails nearby with waterfalls as a nice reward, these are also more unknown than the famous Ouzoud falls nearby Marrakech.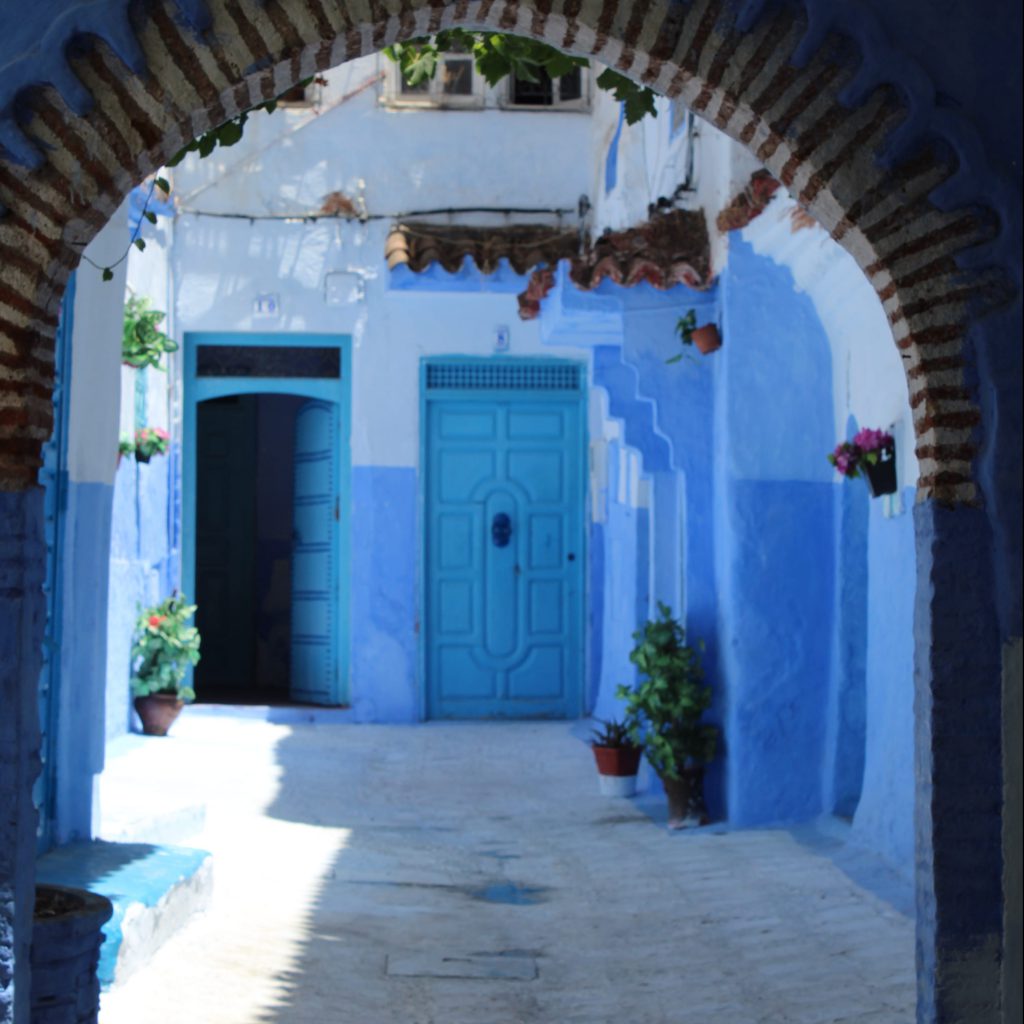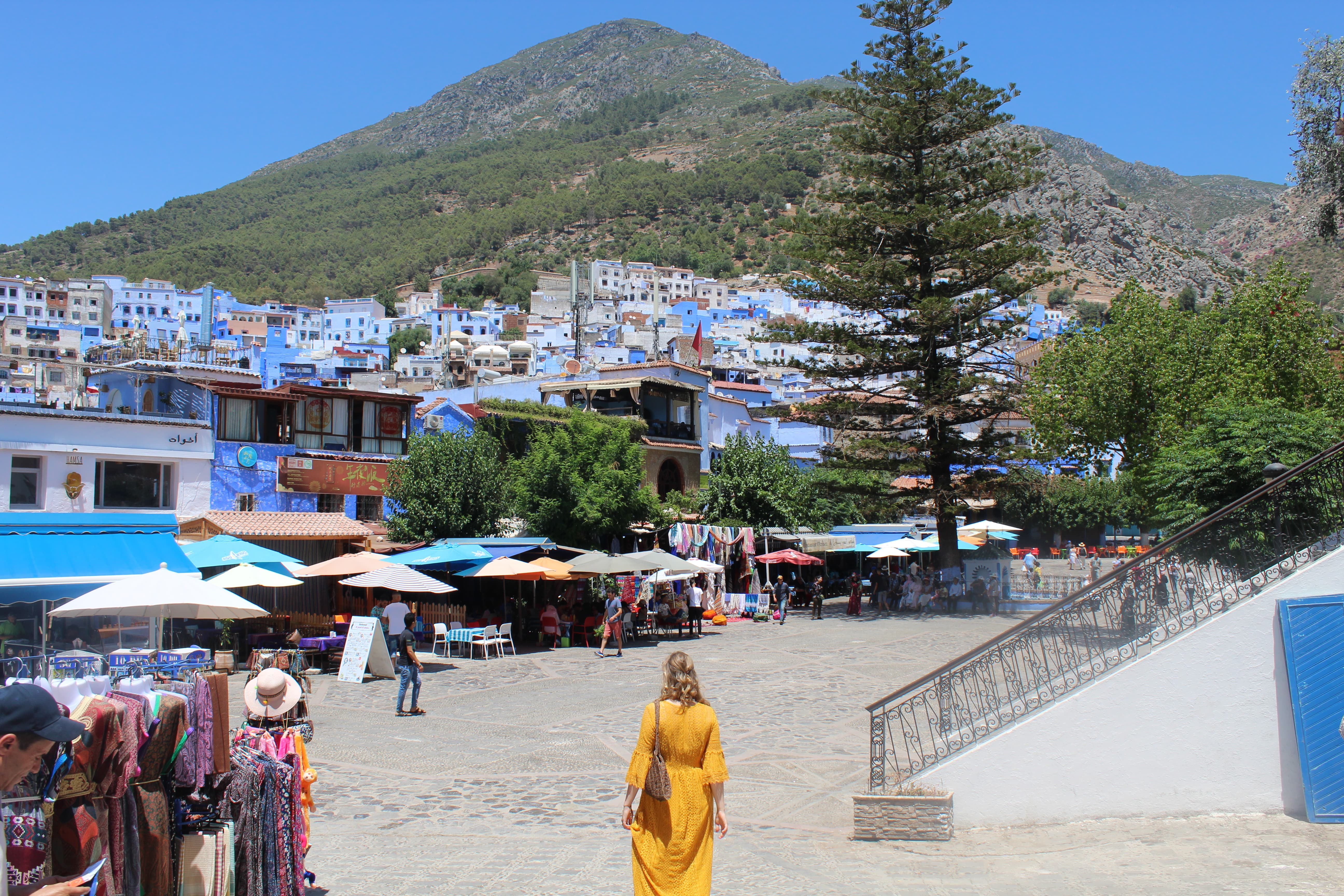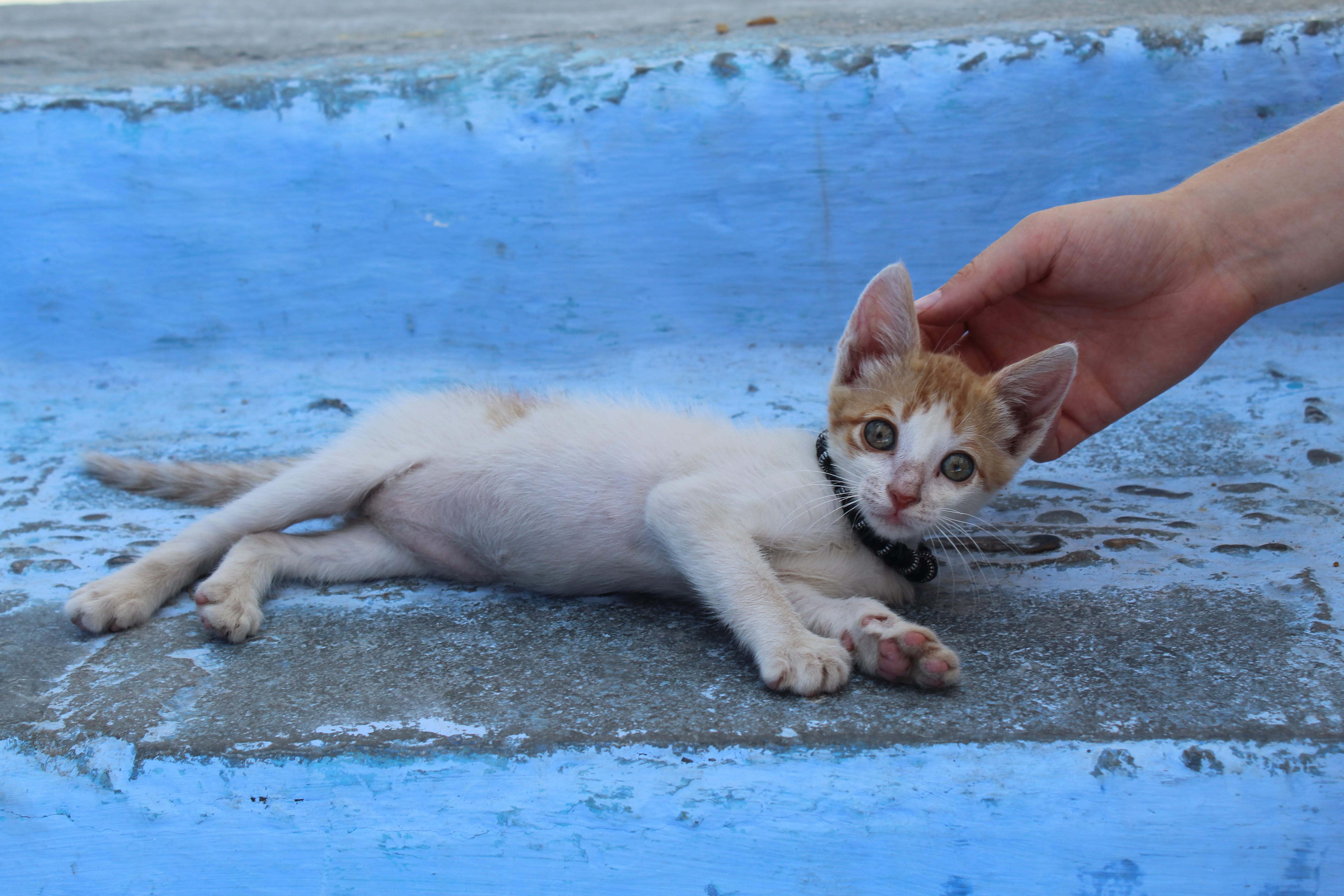 Some might be surprised to see Agadir in this list, but I personally think Agadir has a lot to offer. In the end, it is one of the most popular destinations for the local people themselves to travel to in their holidays. Agadir is located in the south-east of Morocco at the coast. This coastal destination is home to multiple luxury hotels and resorts and is perfect for a beach stroll or a walk on the boulevard with a lot of food and beverage options to choose from. At the end of the boulevard you will find the Agadir Marina which to me felt like an European port. 
What makes Agadir more special than other beach destinations is its location. It is surrounded by mountains and parts of 'desert'. I chose to put desert into quotation marks as some tour companies might promise you to see the desert when booking a trip around Agadir, however this desert is not the Sahara with its sand dunes, as the Sahara is around 13 hours away from Agadir. Still, I would definitely recommend to also go outside Agadir for a day, for instance to 'Paradise Valley'. Paradise Valley is located in the mountains approximately an hour drive from Agadir and according to its name you will find a small paradise in a valley where you can swim in natural waters. 
Here, you will find again mostly Moroccan tourists enjoying the pools. To enjoy your day at Paradise Valley I have some points of advice for you to keep in mind: try not to book at your hotel but at a local agency and preferably a private local guide. When you book a 'half day tour' at your hotel it might happen that you will be driving around for 2.5 hours before arriving at the destination instead of one hour. Also, arriving at the destination you will first have to go to a local restaurant for a drink and after that you will only have one hour left to enjoy the Paradise Valley. This hour will give you enough time to enjoy the set up place for tourists, with plastic tables and chairs in the water and multiple little shops and restaurants near the water. To be honest, this place felt like a tourist trap and not worth the effort. However, if you can go by yourself with a guide who can give you all the time you want at the destination, you will have enough time to explore the place and find real paradise a bit further away from the crowds. 
By choosing for a local agency you make sure your money stays with them instead of ending up in the pockets of the wealthier people. Another thing to keep in mind when visiting Paradise Valley is to make sure to bring all the waste you produce back to the city instead of leaving it in the nature. We all want to be able to keep enjoying the beauty nature provides us right?