This story is about someone we met during our travels in Jordan. This story is about a salesman in Jerash working in the tourism industry. This story is about kindness, trust and respect. This story is about Morad.
Daytrip to Jerash, Jordan
We start our trip in Jordan in the capital Amman. Amman is a great city and also has a lot of possibilities for daytrips. Jerash is one of these possibilities. Jerash is the largest Roman site of Jordan which is why a lot of tourists decide to go see these ruins. Of course, where tourists are, there are souvenir shops and salesmen trying to sell you all kinds of local products. One of these salesmen is Morad and he tried to sell us the typical scarves of Jordan.
At first, I felt really annoyed as we were not even through the main gate of the ruins and already ended up in a shop, but after a while we saw that he was actually a very nice guy. He looked our age and was just doing his job. Men working in tourist shops often are seen as pushy and annoying and I also sometimes try to avoid an encounter with them. However, Morad made me look differently at these people.
We spend way too much time in his shop talking with him and ended up both buying a scarf. Afterwards he made us necklaces which he gave to us and then he invited us for lunch the next day at his home. His mother would cook a traditional meal for us. My boyfriend gave his phone number and we promised to stay in contact.
To be honest, I was a bit scared. I did not fully trust the situation but I was also curious about the experience. We decided to do it and arranged an appointment with him for the day after. The next day we took a taxi back to Jerash and the whole way I was picturing everything that could go wrong in my head. But now I am thinking: what were these scary images based on?
He picked us up from the taxi stop and we walked to a restaurant of someone he knows and had a nice lemon mint there (if you go to Jordan, make sure to try the lemon mint!!). We were not allowed to pay for the drinks as the custom in Jordan is when you invite someone, you pay everything for them.
After this drink, we went to his house where he and his mom live to eat traditional Mansaf. On the way to his house, which is not in the tourism part of Jerash, we were looked at by local people but he said that we were his guests, and so they left us alone. In his house, we sat down on one of the pillows that were laying on the floor and he told us that this was also the place where they slept.
He placed a piece of plastic on the floor and put plates and glasses on there. Then, his mom came with the Mansaf, which is a rice dish with chicken (or lamb) and yoghurt, and this was also placed on the plastic on the ground. We sat down and enjoyed the food and some nice talks, of course for me it was hard to eat chicken but I did it out of respect. Morad told us about his life in Jordan and before Jordan and his goals in life.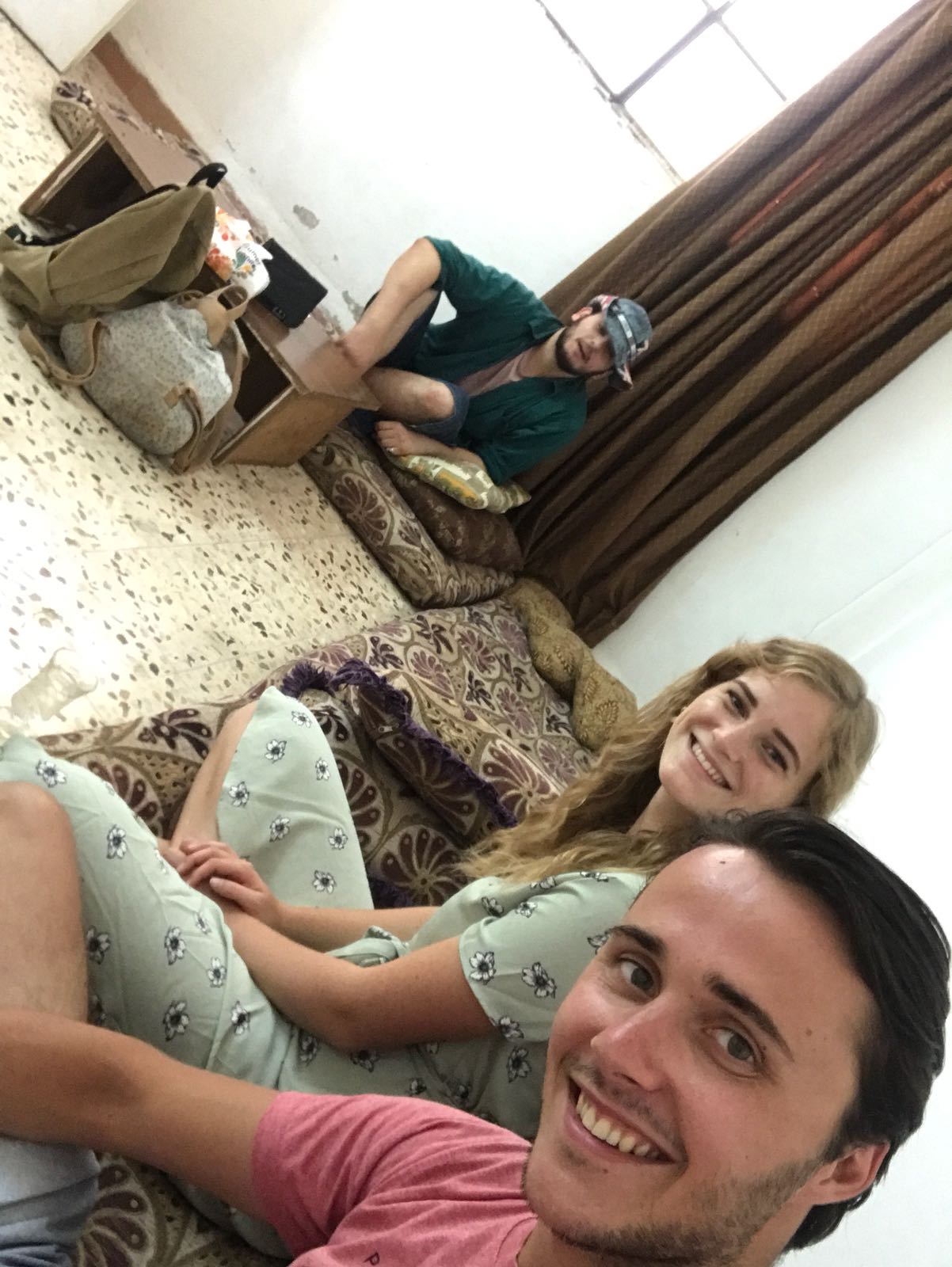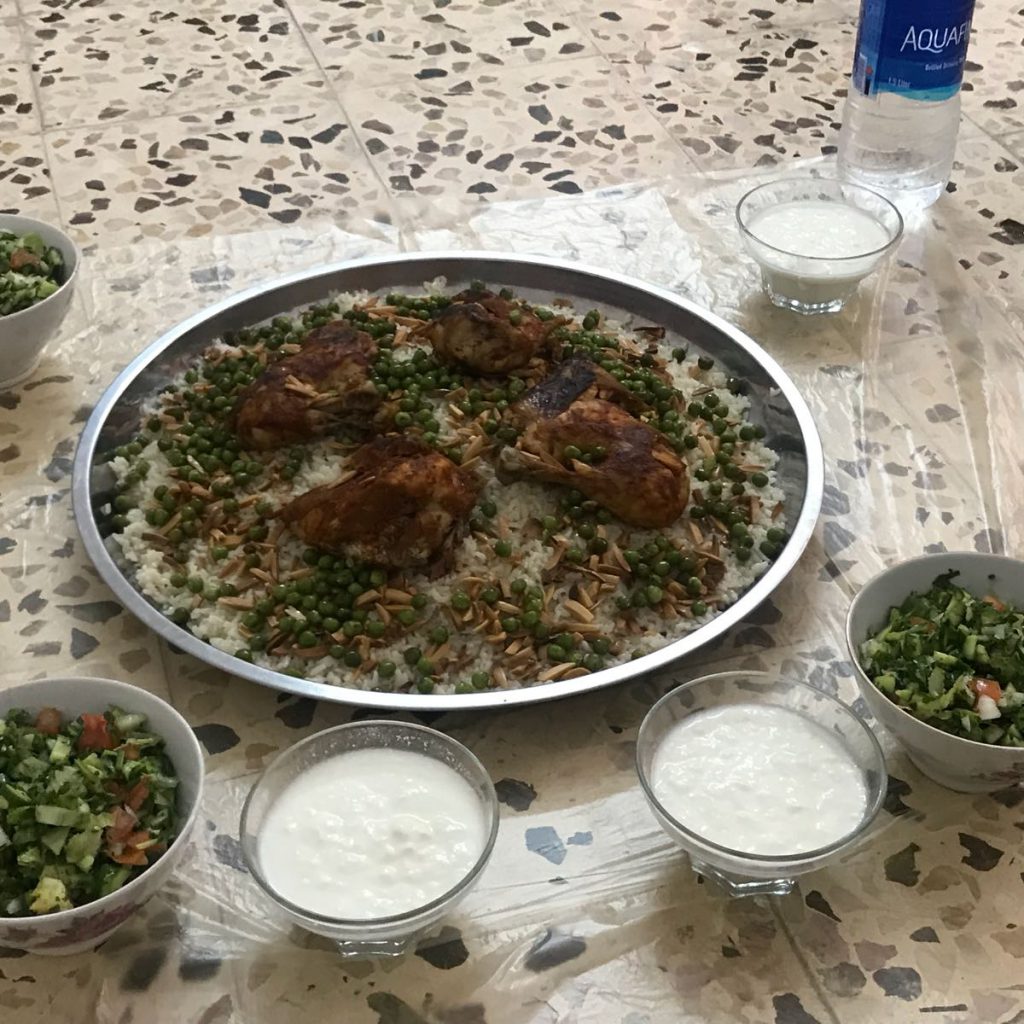 Pushy salesman or person with a story?
Morad is from Syria and had to flee his country because of safety. He arrived in Jordan when he was 15 years old and now only lives with his mother. His father helped his sister and brothers to move to Canada and Germany but by the time he was going to help Morad he passed away. Now Morad got the full responsibility to take care of his mother and find a job. After a while he found a job in tourism because he could speak English and this is where we met him.
He explained to us that a lot of times tourists can be very rude or even ignore him. He finds this hurting as he is also just a person with a story. Tourists can treat him like he has no talent or knowledge and nothing better to do in life.
This is what I would like to raise awareness on. It is of course okay if you are not interested in particular products, but I think it is very important to respect other persons at any time. If you show interest in the local people you might get a beautiful experience in return and otherwise made their (and your) day a little bit better! This lunch was one of our highlights of the trip as it really brought us closer to local life. It opened our eyes and showed us a story of an incredible friendly person who despite everything that happened still tries to accomplish his dream: to rap.
As a kid he already dreamed of writing songs in English and rap about his life. This is the way for him to show his soul and heart instead of always only listening to the mind. He loves humans from every religion or country as he believes that we are all the same in the afterlife. So next time, when you are annoyed by local sales people, think about people like Morad. Just people with a different life story.