I did not know what to expect from a city like Hong Kong. I guess I was expecting a big, grey and busy city with only big sky scrapers and densely populated. I found out, however, that Hong Kong is so much more than this. Consisting of multiple islands, this city offers multiple natural and man made wonders and is great for hiking and experiencing some of the Asian culture. In this blog I will list some of my favourite places in Hong Kong.
Located on Hong Kong island, you can do very nice hikes to a view point called the Peak. However, as I was alone and meeting my sister in the evening, I chose to visit the Peak the easy way. Besides visiting on foot, you can also go to the Peak by tram. This little Peak tram operates between the top of the hill and the bottom (Lower Peak Tram Terminus) and provides gorgeous views of the city along the way. A single ticket costs 37 Hong Kong Dollars and a double ticket costs 52 Hong Kong Dollars.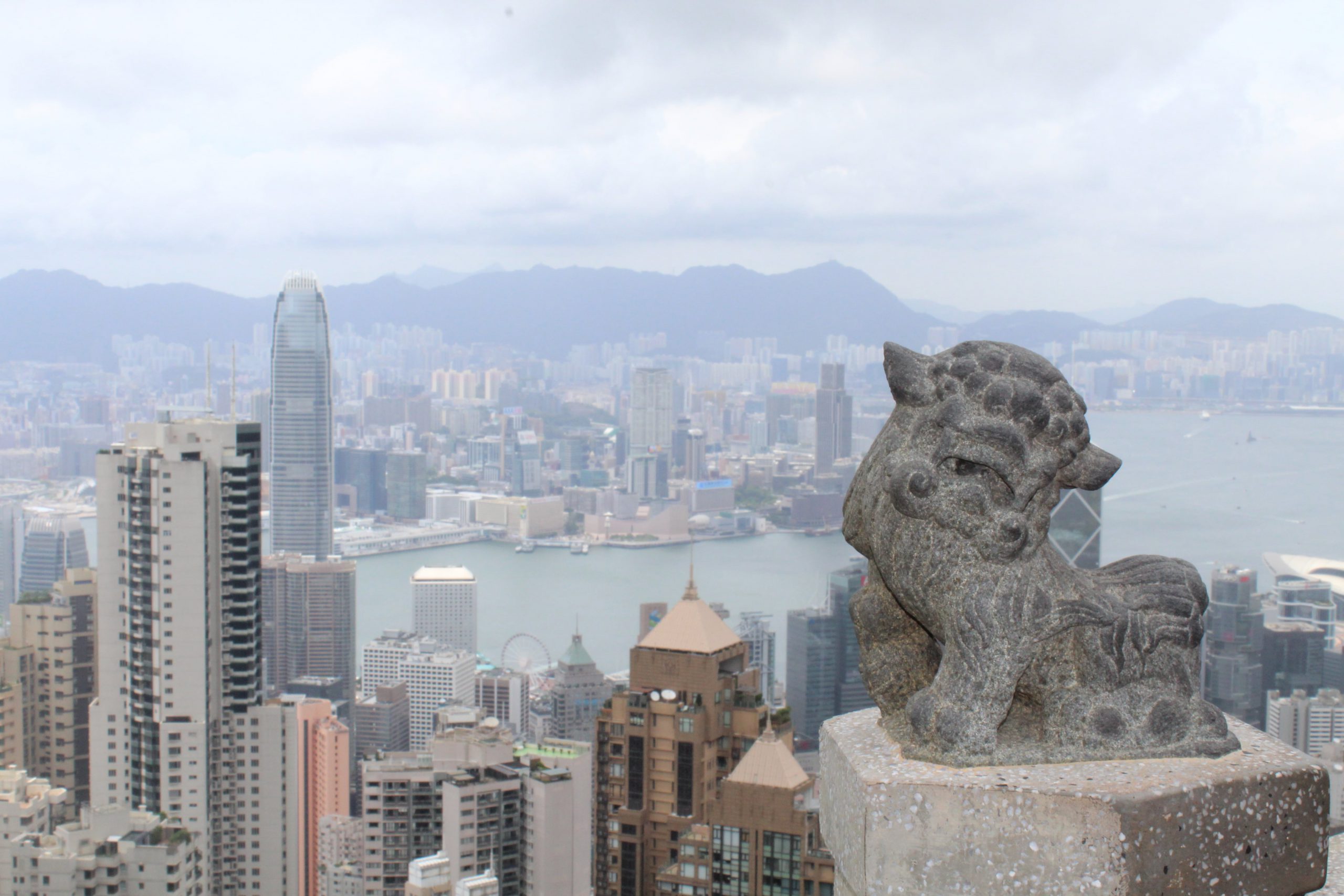 At the top you will first have to walk through the souvenir shop after which you can choose to watch the view from a Skydeck. Of course, there is a fee for this deck and I would recommend to just go outside and watch the gorgeous view from one of the other great spots.
Street art in Central and SOHO
I love walking around looking for some good street art. In Hong Kong the areas of Central and SOHO are perfect for enjoying street art. Use the central-mid elevators to get to the top and do not forget your camera to create some nice pictures!
At this little vegetarian restaurant you can have "fast – slow food". Here you can either choose a flatbread, a burger or a salad. They provide plant based food with a minimal impact to the environment. They turn their food waste and compostable packaging into compost that is used at local farms to grow food. At this cosy place you can have a delicious meal with a positive impact on the planet!
See the Monster building at Quarry Bay
I happen to forgot the real name of this building, but you will probably understand why people call it the monster building. These apartments are famous on the Gram because of their colour and greatness. Standing here, will make you feel really small and it is nice to see how local people live in a big city like Hong Kong.
Experience the busy city at Times square
One of the most busy spots of Hong Kong is for sure Times square. If you want to experience the city's hectic character, this is your place. Sometimes it is just nice to sit down and watch people, right?
Street karaoke and performances at Mong Kok
At Mong Kok you can walk down the street and around you there will be people performing some karaoke. Some are better than the others, just take a chair, sit down and enjoy the performances!
This is the area where everyone goes for a drink and for going out. Before heading into clubs or bars, people tend to drink a beer in the street, which they buy at the 7eleven. Here you can experience the evening coming to life and the people getting ready for a long night out.
Horse racing at Happy Valley Racecourse
When you plan your trip to Hong Kong, make sure to include at least one Wednesday evening! This is the night to go see some horse races and if you want try to win some money! But be careful.. it is addictive to keep going until you win something.. I know out of experience haha..
Drink expensive cocktails at one of the many rooftop bars
When you are in a city like Hong Kong, you got to go up at least once. I love getting an overview of a city, just to get a picture where you are exactly. In Hong Kong there are many nice and fancy bars where you can enjoy the view with a good but ridiculously overpriced cocktail. Anyway.. it is worth it right? We went to the rooftop of the Wooloomooloo bar in Wan Chai.
See the Nong Ping Big Buddha
Of course there is also a lot to do and see outside of Hong Kong Island. One of these options is taking the Ngong Ping Cable Car to the Nong Ping Big Buddha at Lantau island.
The ride in the cable car will give you a great view of the city and the green mountains and you will end up near the Buddha. Unfortunately we did not have much luck as it was a very cloudy day, so half of the Buddha disappeared in the clouds.
Tai O fishing village and hike to the natural infinity pool
On the same island as the Big Buddha is a cute little fishers village called Tai O. Here you can see more of authentic Asia, with little boats and fish being sold in the harbour.
After a nice walk through the village you can go on a hike towards a natural infinity pool. At this point, it was just my sister and I and it was a magical feeling to be in the nature, without anyone else, knowing the city is so nearby..
This really is the other side of Hong Kong! Unfortunately, it is not allowed to swim in this 'pool'. As it functions as a reservoir for the drinking water of Hong Kong. However, the scenery is still magical and worth the hike!
Hike and enjoy the beach at Sai Kung Country Park
A bit further away from Hong Kong Island, but still worth the effort is the Sai Kung Country Park. Here you can do multiple hikes of different difficulties, but trust me.. it is hard to follow a trail, we lost the path multiple times haha.. This did bring us to beautiful spots with the most amazing views, though. I was amazed by the beautiful nature that Hong Kong has to offer, as I was only expecting a big city..
Besides hiking, you can relax at some beautiful beaches, eat lunch at one of the little restaurants and for the real adventurers: camp in the park! As I did not have enough time and we did not came prepared, we had to skip the camping..
Hong Kong is a place that surprised me a lot and is definitely a place I would like to return to. There are so many possible hikes around the city that are all unique in their own way. Nature and the facilities of a city are all within reach.